Custom storage solutions store opens in The Village at Castle Pines
December 1, 2013
/
/
Comments Off

on Custom storage solutions store opens in The Village at Castle Pines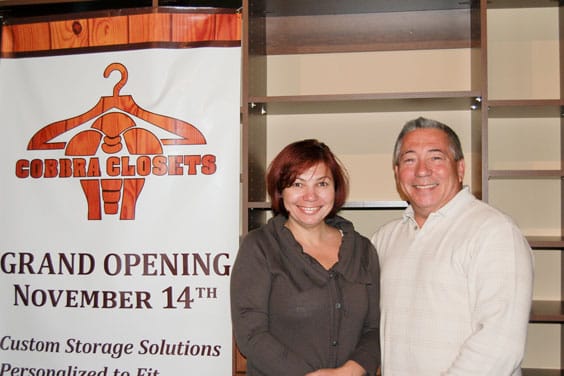 Olena and Barry Borges, the owners of Cobbra Closets are very excited to be a part
of the Castle Pines community. "We were very lucky to find this spot," stated
Barry Borges. "We look forward to being a part of both the Castle Rock
and Castle Pines communities and feel that we can serve both in this location."
Article and photo by Amy Shanahan
The newest addition to The Village at Castle Pines is a beautiful design center that specializes in custom storage solutions for home offices, garages, closets, pantries, laundry rooms, mud rooms and every room in between! Cobbra Closets is owned by husband and wife team Barry and Olena Borges who have extensive experience in home building and renovations.
Cobbra Closets is a dealership for Organizers Direct, which was started by Neil Balter, the founder of California Closets. The couple pride themselves on the top quality product that they provide, and most importantly, on their exceptional service. Barry and Olena personally service all of their accounts and work with homeowners to design and organize areas that are beautiful and functional. They visit their clients' homes to determine specific needs, then display the opportunities and possibilities in their state-of-the-art showroom in The Village shops. Due to the fact that they are a dealer and not a franchise, Cobbra Closets is able to offer exceptional pricing.
Barry Borges has been in the home construction industry since 1976 and has worked both in the U.S. and internationally. Both Barry and Olena have a wealth of knowledge and experience that allow them to offer a full array of services in addition to organizational design. "We can do the tear out if necessary," remarked Barry. "We refinish floors, install lighting, patch drywall, basically anything that needs to be done to complete the project." Olena Borges is originally from Russia and both she and Barry speak fluent English, Russian and Spanish as a result of their international work.
With a host of colors, finishes and styles to choose from, Cobbra Closets has offerings for all tastes. The Borges' experience allows them to be very creative with a myriad of spaces, and they are extremely committed to the satisfaction of their customers. Cobbra Closets is located at 862 Happy Canyon Road, Suite 110.
For more information call 720-625-0117 or visit www.CobbraClosets.com.