Get moving with Next Level Walkers
June 1, 2017
/
/
Comments Off

on Get moving with Next Level Walkers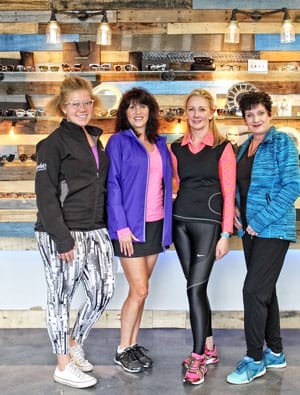 Next Level Walkers organizers (left to right) Elise Matson, Julie Gibbons, Angela Gosling and Eileen Barry invite the community to join them on approximately three-mile walks every Wednesday. The group meets at Eye Level Optical in Castle Pines at 5:30 p.m.

By Lynne Marsala Basche; courtesy photo
Winter hibernation is officially over, and the weather is beautiful. It is time to be outside, get some exercise and make new friends in the process. The newly-formed Next Level Walkers group is hoping residents come out and join the fun!
Eye Level Optical co-owners Eileen Barry and Angela Gosling joined forces with Julie Gibbons of Well & Company, and Elise Matson from Stoked Communications to start the new community group. "Eye Level stands out because we not only focus on eye health, we also focus on overall wellness," said Barry.
Next Level Walkers is for all ages and fitness levels. There is no pressure, and participants can walk at their own pace and for as long or as little as they like.
The group meets every Wednesday at Eye Level Optical, located in Village Square, at 5:30 p.m. Routes will be approximately three miles and will vary, but they all will be in Castle Pines. Afterward, walkers can enjoy happy hour either at Eye Level Optical or a local restaurant.
"We are so excited for this group! Everyone is welcome," said Barry. "Come any and every Wednesday that you are available! No matter your fitness level, we have a spot for you."
Next Level Walker information will be posted on Eye Level Optical's Facebook (www.facebook.com/Eyeleveloptical/) and Instagram pages (@eyeleveloptical). Contact Elise Matson at ematson5104@gmail.com or Julie Gibbons at juliegibbons4@gmail.com with questions.