Going through a divorce? This doctor can help
March 1, 2010
/
/
Comments Off

on Going through a divorce? This doctor can help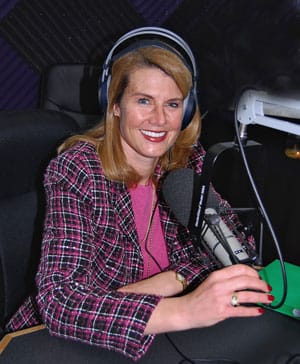 Dr. Kristine Turner hit the airwaves in Castle Rock in January with her talk show "New Beginnings, Life After Divorce."

Article by Kathy Dunker with photo courtesy of Kristine Turner
Castle Pines North (CPN) resident, Kristine Turner, also known as the "divorce doctor", specializes in helping families cope with divorce and has done so for the past fifteen years.
Turner has now taken to the airwaves on Castle Rock's own Castle Rock Radio, an internet radio show that you can log into from anywhere in the world. Turner's new program called "New Beginnings, Life After Divorce" airs on Friday mornings at 11 a.m. and made its debut on January 29 of this year.
A resident of Castle Rock for the past 15 years, Turner currently lives in the Stonecroft neighborhood of CPN. Turner not only has a PhD in Clinical Psychology, but she has also been through divorce twice herself. Turner has four children and knows first-hand how difficult divorce can be for families.
But as Turner says, "although divorce is difficult, it doesn't have to be devastating. There are clearly better and worse paths to take during and after divorce, but it is only through education that parents learn how to lessen the negative impacts of divorce, leading themselves and their children down a better path to the future."
Turner began her private practice in 1994. She says that through her own personal experience with divorce she has more empathy and more realistic expectations of others going through divorce. She understands what can happen during the emotional and sometimes volatile feelings that divorce can impart on families.
According to Turner, the goal of her show is to bring that collective wisdom to one another. "Divorce is one of the toughest challenges life has to offer," she said. "By sharing experiences, everyone becomes wiser about the choices we make for ourselves and our families as we continue through the next chapter(s) of life after divorce."
Turner is very interested in hearing from her radio audience regarding their stories, questions, concerns, and even answers. The format of the show includes hosting guest speakers and also inviting listeners to send in their questions or advice to be shared with the audience. To tune in to Turner's show, visit the radio's website at www.castlerockradio.com.