Imelda Franklin Bogue: Singing the music
August 1, 2018
/
/
Comments Off

on Imelda Franklin Bogue: Singing the music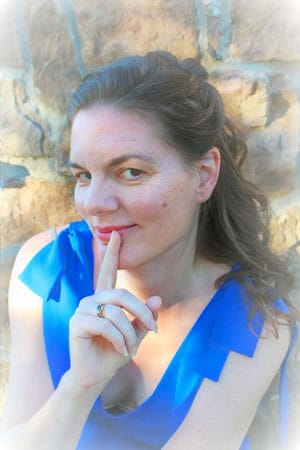 Imelda Franklin Bogue is an opera singer who enjoys collaborating with conductors on new music and loves singing oratorio, such as Handel's "Messiah" and Vivaldi's "Gloria." Bogue's current major projects are a reduction of "Carmen" and her one-woman operatic sketch comedy "The Secret Life of Opera Singers," which premiered in Denver in June and plays again in September at Classic Pianos recital hall in downtown Denver.
By Susan Helton; photos courtesy of Imelda Franklin Bogue
"Blame my parents, everyone does!" joked resident Imelda Franklin Bogue. When she was five years old, her parents, a security guard and a homemaker, took her to a movie version of Giuseppe Verdi's opera "La Traviata." "I've never wanted to do anything else since but make that sound," stated Bogue.
With her husband and two sons, Bogue recently moved to Colorado from the east coast. "I grew up a west-coast peacenik grape-nut, attending performing arts schools. My husband grew up a Connecticut Yankee engineer, farming strawberries. We're a pair," stated Bogue. "My mom is a huge opera fan. Her family is insanely musical. Recently at my first family reunion on her side of the family, they literally played guitars and sang far into the night under the stars. Absolutely magical."
A mezzo-soprano/contralto, Bogue encountered some unique challenges to becoming an opera singer. "A lot of teachers didn't know what to do with my voice. Finally, I found the right one!" Bogue exclaimed. Bogue's favorite role is Angelina, an alto role in Rossini's "La Cenerentola," an Italian version of Cinderella. "I absolutely love it," stated Bogue. "It's stunningly beautiful, incredibly deep and nuanced. How often does an alto get to be Cinderella?" Angelina was the first role Bogue sang – in New York with a training company. "There was one person in the audience: the night security guard! So, I sang it for him," stated Bogue.
"La Cenerentola" and Bizet's "Carmen" are two of Bogue's favorite operas, as well as Gilbert and Sullivan's light operas. Bogue has been wanting to sing Carmen. "I've been studying the role for years. I'm so excited to be directing and singing in a reduced version of the opera this fall under the auspices of the start-up opera company Bel Canto Legacy," stated Bogue.
Along with her music, Bogue keeps busy with normal family life and homeschooling her sons. She adores good comedy. Perfect down-time for Bogue is scrapbooking while drinking hot chocolate out of bone china. She calls it "art journaling." "That sounds more sophisticated!" declared Bogue. One of Bogue's favorite things is teaching voice lessons. She plans to open a studio soon. "It's going to be a ton of fun," stated Bogue. "We're going to have singing parties at the house."
Bogue feels that singing and music have always been her defining passions; what has been given to her to give back. "Something about the classical voice is powerful, inherently reassuring, telling us everything will be all right," stated Bogue. "I love that it was Renee Fleming, an opera singer, who sang at Ground Zero. Music ministers to a broken world. It's truly an honor to be part of that. Whether my part is big or small is God's business, not mine. My business is to show up and sing the music."
To learn more about the upcoming performance of "The Secret Life of Opera Singers," visit denver.classicpianos.net/about/recital-hall. For more information about Bogue's voice lessons, contact her at imeldafranklinbogue@comcast.net.