Making connections via The Connection
November 1, 2012
/
/
Comments Off

on Making connections via The Connection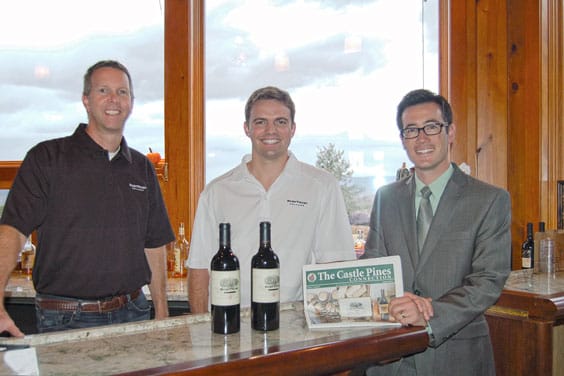 Ruby Trust Winery owners Ray Bruening and Braden Dodds are pictured with Brian Nishi (right) from the Country of Club of Castle Pines and a copy of The Castle Pines Connection that brought them together.
Article and photo by Amy Shanahan
The staff at The Castle Pines Connection was excited to learn that its newspaper brought together two businesses from the local community.
In September, the newspaper featured the work of a local winery on the cover. Ruby Trust Cellars is a winery started by Castle Pines Village resident Ray Bruening and local winemaker Braden Dodds. The winery is located in the Village shops in Castle Pines and it recently held a release party for its 2010 wines.
Brian Nishi is the director of membership and communications for the Country Club at Castle Pines (CCCP), and is a faithful reader of The Castle Pines Connection. The CCCP has been featured regularly in the paper, and many of our readers belong to the club.
Nishi was working with the membership committee at the club to come up with a unique gift for new members, and he was inspired after reading the article about the winery.
"I have known Ray since he joined the club, but never realized that he was in the winemaking business," remarked Nishi. "The membership committee had been looking for a gift to present to new members of the club. When I saw the cover of The Connection, I instantly knew this was it! A bottle of wine not only made here in Castle Pines, but also by a current member of the club." The CCCP will begin giving bottles of Ruby Trust Cellars wine as part of a welcome gift to new members in 2013.
If any of our readers have been inspired by one of our stories, we'd love to hear about it! Please e-mail us at editor@castlepinesconnection.com.