Metro District Works to Improve Well Sites
October 1, 2008
/
/
Comments Off

on Metro District Works to Improve Well Sites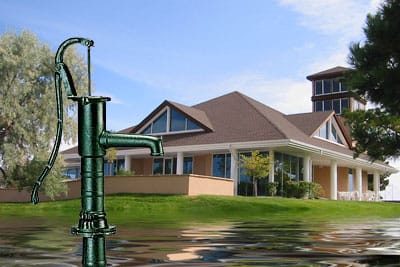 by Terri Wiebold
The Castle Pines North (CPN) Metro District is responsible for maintaining and operating 10 wells within the CPN Metro District boundaries.
The District's wells range in depth from 693 feet to 2,361 feet. In order to pump well water to the surface, the District spends approximately $600,000 annually in electricity costs. This is, by far, the largest single cost to the District in providing water to the customers of CPN.
The District is continually making improvements to the well sites, and has recently completed new sound enclosures at Well A-1, located in Forest Park and at Well A-4, located adjacent to the driving range at the Ridge Golf Course. Additionally the District will be installing a similar enclosure at well A-5 near Hidden Pointe Boulevard.
These new structures were built to deflect sound away from nearby homes and out onto the golf course, as well as to help protect electrical equipment located inside the enclosure. District staff has been taking sound readings to ensure the noise abatement has been successful.
Additionally, the first phase of landscape improvements on Well A-5 began in September. Upon completion, this phase will include the installation of 10 pine trees, two oak trees, 45 rabbit brush shrubs, 15 yucca plants, drip irrigation for all the plantings, and approximately 17,300 square feet of seeded native grass.
For an update on additional Metro District projects, visit www.cpnmd.org.