Multi-family project proposed for Castle Pines
August 1, 2018
/
/
Comments Off

on Multi-family project proposed for Castle Pines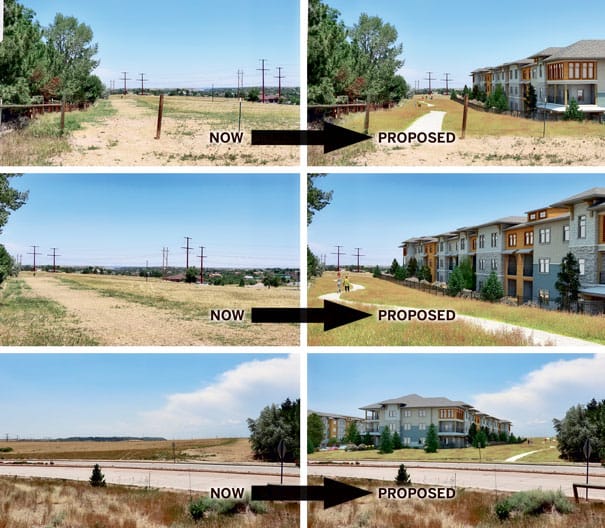 By Daniel Williams; Photo renderings courtesy of the City of Castle Pines
Earlier this year, Atlanta-based Davis Development submitted a land use application to develop a 200-unit multi-family project on the 10.4-acre property located on the southwest corner of Castle Pines Parkway and Lagae Road in the City of Castle Pines. As submitted, the project calls for a combination of three- and four-story structures with a variety of one-, two- and three-bedroom units. For now, the city is calling it the "Davis Development," said Sam Bishop, director of community development in Castle Pines.
"Over the years, we've had several discussions and entertained development proposals about the property, but this is the first one that has been submitted to the city for processing," said Bishop. "The property falls under the same business zoning district as King Soopers and that zoning allows for multi-family projects, but we will have a special review."
Bishop said under the special review, the city will look to see that any adverse impacts are mitigated. "That typically means aesthetics and noise."
On June 27, Davis Development conducted a neighborhood meeting at Douglas County Libraries – Castle Pines regarding the project. A letter sent to neighbors who live adjacent to the property stated "the purpose of the meeting will be to discuss any issues adjacent property owners and neighborhood organizations may have about the conceptual development." Representatives from Davis Development and the company's consultant team attended the meeting to present information, answer questions and listen to concerns from the community.
Calls to Davis Development were not returned by press time, but Bishop, who was in attendance, said the event was well attended and there were good questions from the community. "Regarding the land use application, we received that and made comments and suggestions and Davis [Development] will be resubmitting the application. If that is approved, we'll have a referral period and the application will be sent to local, state and federal agencies for comment, and that includes HOAs and neighborhoods having an opportunity to make comments."
The developer
Davis Development has a 20-year track record of developing and managing high-end multi-family projects with more than 50,000 units across the southeast, midwest and southwest. One project in its portfolio that may be familiar to some Castle Pines residents is Arcos Lincoln Station Apartments, a luxury multi-family property located at 10346 Park Meadows Drive in Lone Tree. Arcos is a 232-unit property that offers one-, two- and three-bedroom apartments.

High-density housing
The Davis Development property is the second high-density project to be proposed along Castle Pines Parkway in recent years. In May, Legacy Village of Castle Pines, a senior living facility, opened on the 7-acre parcel located on the northwest corner of Castle Pines Parkway and Monarch Boulevard in the City of Castle Pines.
Bishop said the Davis Development, if approved, will follow a similar construction timeline to Legacy Village. "If the project does get approval, I anticipate the development to begin in the first quarter of 2019 and then have a 16-month buildout. That's what Legacy Village did."
To review the documents submitted by Davis Development or to learn more about current projects in Castle Pines, visit www.castlepinesgov.com/current-projects.