Opportunity for young hunters; apply within
July 1, 2012
/
/
Comments Off

on Opportunity for young hunters; apply within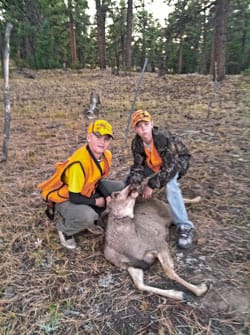 HOA II resident Bryce Stutler (left) and his cousin Dylan, pictured last year after filling their doe tag.
Information courtesy of the Department of Wildlife website with photo provided by the Stutler family
The Colorado Parks and Wildlife's Hunter Outreach Program, in partnership with other organizations, is offering several youth hunts during the fall 2012 hunting season.
These hunts build firearm safety and skills, field skills, and increase the hunter's understanding of the habitat and biology of upland game. As a first experience program for youth hunters and their families, emphasis is placed on developing basic hunting skills in a safe and positive environment.
A youngster's first hunt can be the beginning of a lifelong pastime, opening a door to a new and exciting world, presenting opportunities to learn about and experience the out-of-doors. Following a few basic guidelines will help to ensure the best possible time in the field for the novice hunter.
Applications are now available, and the deadline for submission is August 1. These hunts are open to Colorado residents only. The fall limited license application period is now open. The application deadline is July 12. Apply online, or by mail, using the hardcopy applications within the 2012 Turkey Brochure available at licensed agents and Colorado Parks and Wildlife offices.
For more information, please visit the youth hunting page on the Colorado Department of Wildlife's website at www.wildlife.state.co.us/hunting. Results of the drawing will be available on the draw results page on July 31.