Community rallies for Castle Pines Paralympian
August 1, 2012
/
/
Comments Off

on Community rallies for Castle Pines Paralympian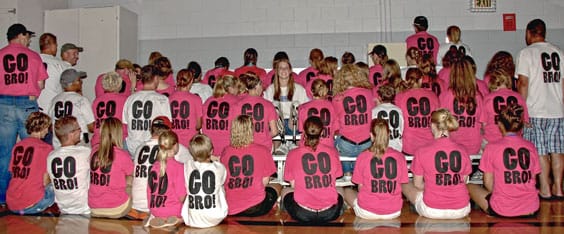 Brickelle Bro, center, surrounded by supporters at a fundraising event in July. Bro has been named to Team USA and will compete in the Paralympics in London later this summer.
Article and photo by Lisa Crockett
It's been said that it takes a village to raise a child, and Brickelle Bro – the Castle Pines Paralympic swimming hopeful, has one very supportive village. The Castle Rock Swim Team ("The Rock") leaped into action to support their teammate when they found out that Bro had been named as a member of Team USA for Paralympic swimming in London. Brickelle's travel and accommodation expenses are covered by Team USA, but her parents, siblings and coaches have to pay their own way – a very expensive proposition. Luckily, it's not a burden they'll have to bear alone.
A celebration and fundraiser in mid-July raised roughly $15,000, which will help defray travel costs for 15-year-old Brickelle's family and coaches to travel to London to support her at the games.
Almost immediately after Brickelle's spot on the team was announced, swim team parents Vivian Jenner and Laura Alfano began making plans for a celebration to honor Bro for her success as well as raise funds. Marty Huff designed the "Go Bro" website (www.gobro.org) to help disseminate information and receive donations, and Swim Team Board President Dana Wilson helped coordinate the venue and the production of bold, bright "Go Bro" t-shirts, which were sold to raise money.
"The kids on the team are always really supportive of each other, but this has taken the unity of the team to a whole new level," said Jen Amos, who helped with the planning of the event and is wife to Brickelle's coach, Will Amos. "It's been awesome to see them really pull together as a team."
And it wasn't just locals who were inspired by Brickelle's athletic performance and positive outlook on life. Olympic swimmer Missy Franklin donated two hours of private swim lessons for auction. John Lynch made a cash donation and supplied a signed football. Bani Bands, a company that makes specially designed headbands for athletes, set up a booth at the fundraiser and donated the proceeds of all sales made during the event.
For her part, Brickelle has been busy swimming and preparing for the games. In July, she took first place in the 400-meter freestyle at the CanAm games, achieving a personal best time and improving her world ranking to third in her classification – giving her a real shot as a medal contender in London.
"We are so grateful and humbled by the love and support from our friends, family and new acquaintances," said Brickelle's mom, Heather. "The 'Go Bro' celebration was a tremendous success and we were thrilled to see so many there! Brickelle feels truly blessed to have had the chance to meet and greet so many friends. We are very grateful to the Castle Rock Swim Team for their time, energy and tireless efforts on her behalf. She truly belongs to the best swim family ever!"
For more information about Brickelle, visit www.gobro.org.