Saying farewell in the peace of your own home
May 1, 2015
/
/
Comments Off

on Saying farewell in the peace of your own home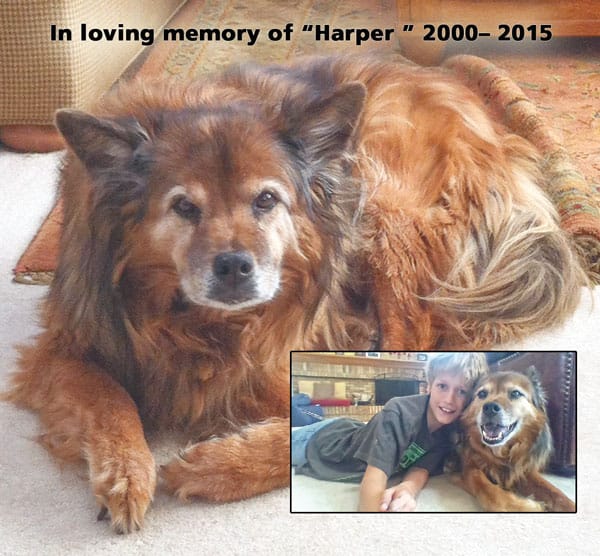 Jack and his devoted companion Harper, who were partners in adventures, one-sided snowball fights, and doughnut-staring contests. When the time came for end-of-life services, it was best for Harper and his family to be at home, and Caring Pathways offered a peaceful and comfortable option for the transition.

Article and photos by Lynne Marsala Basche
Pets are so much more than just animals. Some are large and playful, while others are small and cuddly. All are special and capture their owners' hearts. When the time comes to consider the end of a pet's life, it is often stressful and sad. However, thanks to a growing trend, at-home
end-of-life pet services are helping to make a painful time more comfortable. Caring Pathways is one such organization dedicated to providing comprehensive, compassionate care and guidance regarding all aspects of a pet's final days.
Caring Pathways began in 2009 when Dr. Larry Magnuson recognized that the needs of pet owners and their pets could often be better served at home. For the most part, a pet is less stressed receiving care at home, and often owners are much more comfortable pursuing services that a traditional veterinary clinic cannot provide. Caring Pathways focuses solely on in-home assessments and consultations, in-home hospice and palliative care, and in-home euthanasia, as well as after-care. The Caring Pathways team offers pet owners the ability to create a customized end-of-life plan that best suits their pet's needs, as well as their own.
Caring Pathways fills a growing need that was not previously being met. By allowing Caring Pathways to be a part of the end-of-life decisions and care at home, people and pets are more at ease. Peaceful, familiar surroundings give pet owners the opportunity to grieve and express themselves without feeling self-conscious, and being in a favorite spot allows a pet to be less anxious.
Whether an at-home consultation, hospice care, or euthanasia is needed, Caring Pathways doctors are committed to providing gentle, thoughtful care tailored to a pet's needs, as well as support for pet owners. Dr. Lori Lowery, one of the Caring Pathways doctors, believes that the essence of their practice is the doctors and team. Lowery explains that in order to be available 24 hours a day, seven days a week, the entire team must be dedicated to maintaining a standard of excellence that allows for a peaceful transition at life's end.
While nothing can eliminate the heartache involved with end-of-life decisions for a pet, the Caring Pathways team makes a difficult time easier and more comfortable for people and their pets in the Denver Metro area.
To learn more about in-home and end-of-life care for your pet, visit www.caringpathways.com or call 720-287-2553.