Shop owner recognized for exceptional floral designs
May 1, 2015
/
/
Comments Off

on Shop owner recognized for exceptional floral designs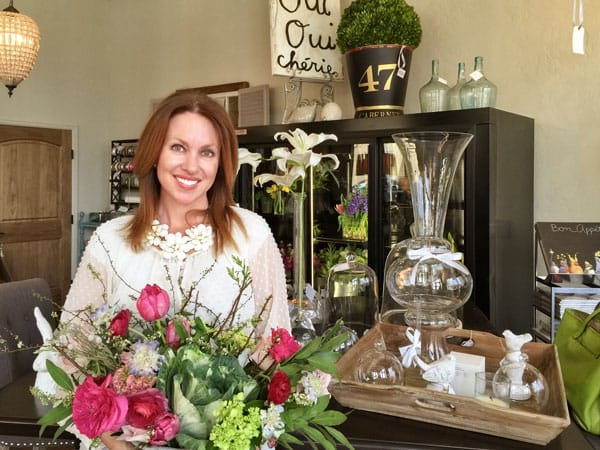 Tasha Frye, owner of L'Arrangement, is a very talented floral designer who was thrilled to be invited to join a prestigious group of floral designers from around the world. Chapel Designers share their talents, ideas, and designs with each other, and in turn, Frye looks forward to further sharing her love of beautiful fresh flowers with her clients.
Article and photo by Amy Shanahan
L'Arrangement, located in The Village at Castle Pines, is a local favorite for beautiful home décor, gorgeous jewelry, and exquisite floral designs by owner Tasha Frye. After 17 years in the floral design business, Frye opened her shop in 2012 and has continued to foster her love of beautiful things, and beautiful blooms.
In April, Frye attended a floral design conference in New York City and was asked to join a prestigious group of floral designers called Chapel Designers. Chapel Designers is an international group of wedding and floral designers who support each other through mentorship, partnership, collaboration, education, and support. Designers are selected based on specific criteria and must meet certain goals each year.
Frye was ecstatic about the three-day conference, at which she participated in workshops involving floral design and small business ownership. Highlights of the conference included a tour of Martha Stewart's studio with Senior Style Editor Naomi de Manana, and a day spent designing in the studio of world-renowned florist and event stylist David Beahm.
"I'm so grateful to have attended this conference and to be invited to be a part of the Chapel Designers," remarked Frye. "It's so liberating to have an open forum to communicate with other floral designers and the sense of camaraderie makes it easy to accomplish anything I want to do going forward."
Frye is excited to share her new ideas in her quarterly floral design classes and to continue to create beautiful floral designs for the Castle Pines community, which has embraced her and her shop. "Clients in this area are so kind and appreciative and enjoy seeing my floral designs as an added feature to their weddings, parties, and homes."
L'Arrangement is full of wonderful gifts and floral designs for Mother's Day. The shop is located at 864 W. Happy Canyon Road in The Village at Castle Pines. For more information or to find out about floral design classes, visit www.larrangementfloral.com.