Serena Neighborhood Works on Solution for 'Children at Play'
October 1, 2007
/
/
Comments Off

on Serena Neighborhood Works on Solution for 'Children at Play'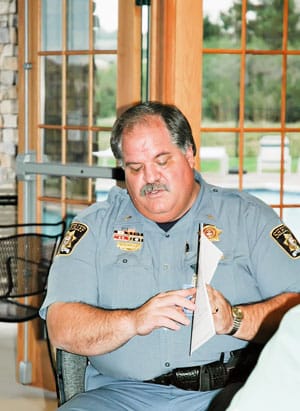 Officer Kevin Duffy of the Douglas County Sheriff's Office reviews traffic safety information with North Lynx HOA residents.

Traffic Safety Reminders:
• Traffic cones and other obstructions are illegal and may not be placed on streets by residents. There is some evidence that these tools actually make conditions more dangerous for children.
• Drivers must yield to pedestrians who are in crosswalks. Pedestrians should yield to passing traffic before entering a crosswalk.
• Darting out between parked cars is the number one factor in auto accidents involving pedestrians. The number one way to make our streets safer for children is to keep parked cars in driveways and garages.

Article and photo by Lisa Crockett
"Child At Play" signs have come down in the Serena neighborhood of Castle Pines North (CPN) and will be replaced by new signs placed on private property in the subdivision. Serena is part of the North Lynx Homeowners Association in Daniel's Gate.
Douglas County Traffic engineers required that the old signs be removed.
"Signs like this may make people feel better, but they don't actually prevent people from speeding or make conditions safer for children," said Douglas County Traffic Engineer Robert Kenny.
Worried about speeding cars headed to Coyote Ridge Park, as well as cars headed into the neighborhood, North Lynx HOA leadership had posted the signs in an effort to improve safety conditions. When the county informed the HOA that the signs would be removed, residents requested a meeting with Kenny and traffic safety officers from the Douglas County Sheriff's Office (DCSO).
At the meeting, Kenny informed residents that traffic signs must conform to strict regulatory standards, standards the "Child at Play" signs do not meet. Officers Adam Cataffo and Kevin Duffy of DCSO also reported that in a recent analysis of traffic in the area, speeding is fairly rare in CPN.
"In a recent study of traffic in Serena, we saw statistics of 198 cars over a two-day period. In that time, only one car was over the speed limit, which is really pretty good," said Cataffo.
Speeding or not, residents and HOA leaders are looking for ways to make Serena safer for children. Kenny introduced signs from an organization called "Keep Kids Alive, Drive 25." Rather than simply stating that children are at play, these signs feature reminders like, "No need to speed," or "Be Aware, Drive with Care."
"These signs have been shown to reduce accidents because they actually give drivers some direction," said Kenny. Still, these signs may not be placed on public property, but will have to be displayed by individual homeowners who will need to get permission from their HOA.
"I think these signs are a step in the right direction," said North Lynx HOA president Anna Malinson. "Once the HOA has officially approved the signs, we will be approaching specific homeowners to see if they are willing to have a sign in their yard."
Other remedies for speeding, including the installation of a roundabout near Coyote Ridge Park were discussed and will be explored by North Lynx.