Springtime Super Bowl celebrations in Castle Pines
July 1, 2016
/
/
Comments Off

on Springtime Super Bowl celebrations in Castle Pines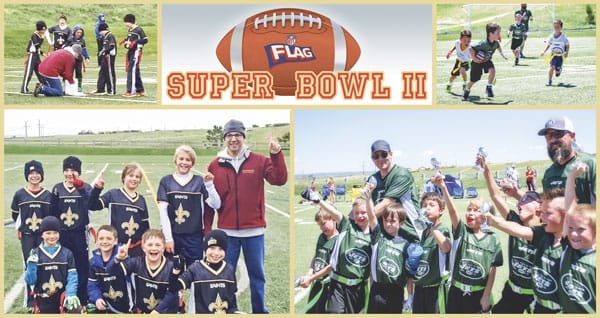 Victorious kids celebrated last month following the end-of-season Castle Pines Athletics springtime Super Bowl II. Congratulations to the New York Jets, the Super Bowl champions of the six-to-eight year-old age group and to the New Orleans Saints, the Super Bowl champions of the nine-to-11 year-old age group.

By Elean Gersack; photos courtesy of Castle Pines Athletics
It was big time fun when the second Castle Pines Athletics Super Bowl took place at Elk Ridge Park this spring. With the first Super Bowl played last fall, players were ready and excited to play hard in an effort to get to this season's big game.
The spring season started with 12 teams, six teams in each of two age groups: six-to-eight year-olds and nine-to-11 year-olds. On May 21, players got warmed up, dressed out, and ready to battle during playoff weekend at Elk Ridge Park. The top four teams advanced to Super Bowl II: the New York Jets versus the Pittsburgh Steelers for the younger players and the New York Giants versus the New Orleans Saints in the older age bracket.
Despite rain and cold temperatures, the Saints and Giants returned for the main event on Thursday, May 26. Players, coaches and parents persevered and managed to still have a great time. The Jets and Steelers match-up was rescheduled and played on a far nicer day, June 5.
In the end, the New York Jets, coached by Ben Ingalls and the New Orleans Saints, coached by Larry Wilner were crowned Super Bowl II champions for their respective age groups.
"I am just really proud of this team and this group of kids," shared Wilner. "They played with tremendous heart and determination all year and persevered through some tough losses and weather (it was 40 degrees and raining on Super Bowl day) to eek out a close victory over a very good Giants squad. It was a very special victory for us," stated Wilner.
One of the Saints players concurred with his coach about the match-up. "It was a hard game but we never gave up. In the end, the Saints came out on top!" said Drew Cooke.
Congratulations to all the kids who came out to play this season! NFL Flag Football will be back in Castle Pines again this fall. Visit www.castlepinesathletics.com to register before the July 15 deadline.