The goatherd life: Interview with Michael Padilla
August 1, 2018
/
/
Comments Off

on The goatherd life: Interview with Michael Padilla
Michael Padilla, goatherd for Goat Green, smiles as he shares his experiences tending weed-controlling goats.
Article and photos by Barbara Neff
Though Michael Padilla, age 32, grew up in the tiny community of Mora, New Mexico, his ties to Colorado are strong. For nearly three years, he has worked for Cheyenne company Goat Green, the environmentally conscious LLC that employs goats for noxious weed control. During those three years, Padilla has spent much of his time living in a camper trailer in Colorado watching over a herd of goats day and night. Goat Green also maintains an office and base of operations in Fort Collins.
I had the pleasure of speaking with Michael Padilla several weeks ago. While traveling north on Daniels Park Road from Highway 85, I passed a spectacle. Padilla was occupied adjusting fencing on the side of the road near a camper trailer pulled off into roadside brush. As Padilla worked, dozens of beautiful goats meandered the hillside. I did a U-turn and headed back to speak with Padilla.
Padilla admits that his life as a goatherd can be a bit lonely. While he talks enthusiastically of his love of the outdoors and his devotion to the care and well-being of the goats he tends, he also speaks of his family back in Mora and his house that his sister lives in while he is away.
Goats, Padilla explained, can munch approximately one third of their body weight per day, making them excellent weed eradicators. Though goats will occasionally nibble on tree leaves, they prefer the dead leaves, weeds and brush that accumulate roadside, making them effective fire abatement agents, as well.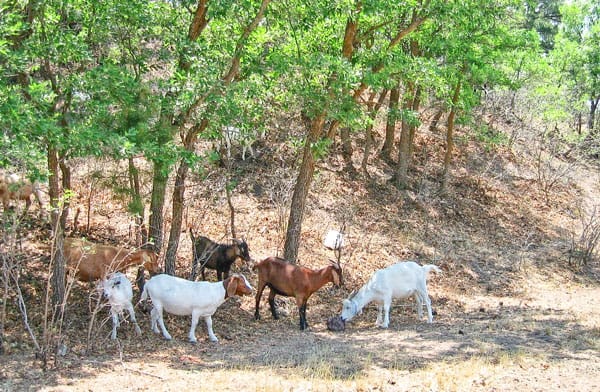 Beautiful goats, all colors and sizes, eradicate weeds along Daniels Park Road on July 3.
By phone, owner Donny Benz explained that Goat Green is the brainchild of his mother, Lani Malmberg, who launched the environmentally-friendly weed control operation in 1997. Benz estimates that he was only 13 or 14 when his mother, who holds a master's degree in weed science from Colorado State University, began to include him in company operations. Today, Malmberg and Benz are co-owners of Goat Green. Their company, according to Benz, is currently contracted with various government entities in 15 states, including PineRidge HOA in the City of Castle Pines.
Michael Padilla busies himself with the goats as we speak roadside. He does not take his eyes off his herd. He speaks with affection of three new kids born less than one week ago. He mentions the places he has most recently been with the goats, and where they will move in the coming week. The smile never leaves his face.