Transforming an old patio into a backyard paradise
July 1, 2017
/
/
Comments Off

on Transforming an old patio into a backyard paradise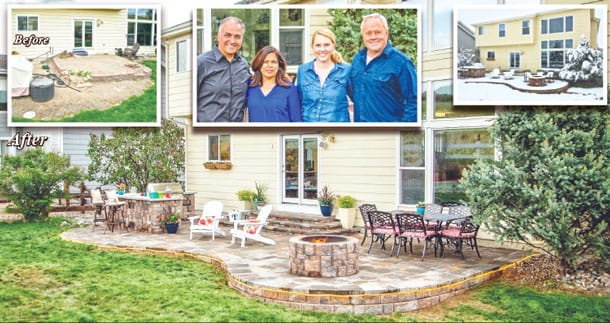 The Colorado snow did not stop the crew of "Today's Homeowner with Danny Lipford" from building and filming an amazing backyard makeover of the Sethi home in Castle Pines. Above center, left to right, Gautam and Monica Sethi, winners of the "Backyard Paradise 2017" contest, show producer Chelsea Lipford Wolf and home improvement expert Danny Lipford.


By Patte Smith; photos courtesy of "Today's Homeowner with Danny Lipford"
Neither snow, nor sleet, nor more snow could stop the incredible transformation of a rather "sad" backyard patio turned into a beautiful outdoor entertainment area for the Sethi family of Castle Pines. Home improvement expert Danny Lipford and the crew of "Today's Homeowner with Danny Lipford" arrived at the Sethis home May 15 to film a new episode of the very popular television show after it was announced that the Sethis had won the "Backyard Paradise 2017" contest.
Avid viewers of the show, the Sethis had noticed the contest but never thought another thing about it. "Several weeks went by and then my husband Gautam and I started to talk about renovating our back patio this year," explained Monica Sethi. "We looked around locally and then I decided to log on to the Facebook page of 'Today's Homeowner with Danny Lipford'." The show was still taking entries for a backyard makeover, and 7,000 contestants had responded. I filled out the entry form online, and we sent some photos of our back patio with missing flagstone that we had given away. I wrote up an explanation of why we should be picked and then forgot about it."
"I received a random call in April that I almost did not answer since it was an unknown number, and the producer of the show asked me a few questions and told me we were one of the five finalists. Later that day Danny Lipford, the host of Today's Homeowner called me personally to tell me we had won the contest – we couldn't believe it!"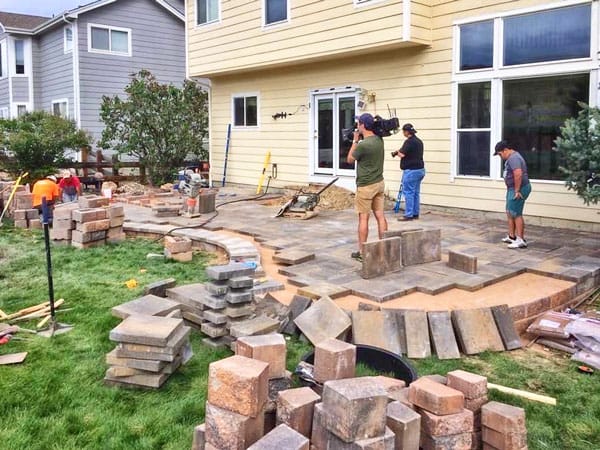 It was a nice day for building and filming, but the entire team was trying to get ahead of an impending snowstorm. Below: Monica Sethi was filmed as she learned how to set Pavestone products with the help of one of the crew.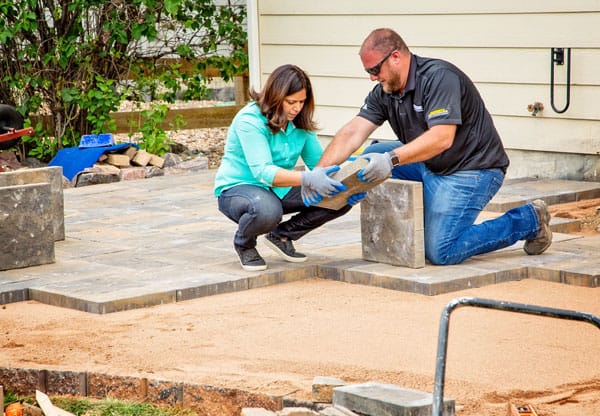 The crew arrived and soon discovered that Colorado being Colorado, they needed to hurry with the makeover since a rather large snowstorm was going to descend on the area. With Danny's expertise, his team transformed the outdoor space from "blah" to "beautiful" in four days as the film crew recorded the episode. The grand prize package included a variety of pavers, retaining blocks and project kits from Pavestone to construct the patio area, a new fire pit, an outdoor cooking area with grill and fridge, new outdoor lighting, and plants for landscaping.
"We always have to contend with weather issues when producing the show," explained Lipford, "but usually it is a pending rainstorm or extreme heat. Rarely are we pushed by a strong snowstorm and it really motivated us to pick up the pace. It was a pleasure working with the Sethi family. The whole family had such a great spirit and really enjoyed the process of seeing their new backyard come together."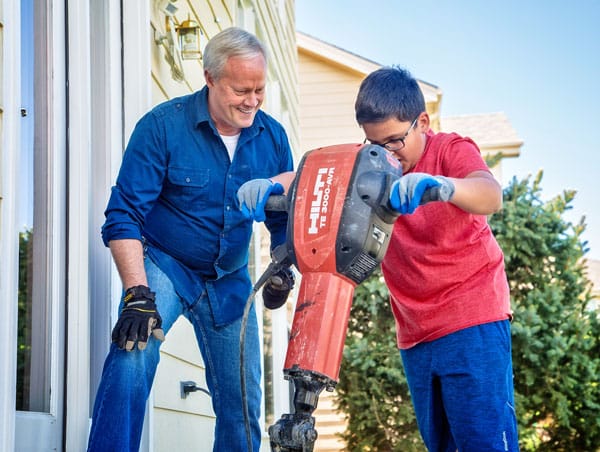 Twelve-year-old Aaron Sethi learned how to use a jackhammer with Danny Lipford supervising.
"Our family was extremely lucky to have won this contest – it was a godsend for us, and our neighbors were just as excited as we were. We are enjoying our new backyard paradise, watching the beautiful sunsets with our family, neighbors and friends. We want to thank Danny Lipford and his team," said Sethi.
The Sethi Backyard Paradise 2017 episode of "Today's Homeowner" aired the week of June 12 and will repeat the week of September 4. The episode can also be viewed online at www.todayshomeowner.com/television/2017/06/14/backyard-paradise-2017/.