Animal and plant cell projects are building up at BRE
November 1, 2011
/
/
Comments Off

on Animal and plant cell projects are building up at BRE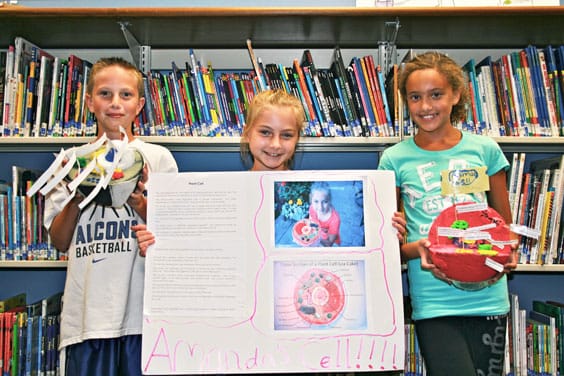 These fifth grade students used their creativity to create these wonderful projects. From left to right: Trevor used half of a basketball; Amanda made a cake for the class to enjoy and documented it on a poster board: and Ciara made hers out of a foam ball with clay.
By Brie V., BRE Ridgeline Staff Reporter
Fifth grade students at Buffalo Ridge Elementary (BRE) are making and learning about cells faster than you can say "Cytoplasm"! This year at BRE, the fifth grade student body is learning about the building blocks of life – otherwise know as plant and animal cells.
During the course of the school year, all fifth grade students will be assigned to make a model of a plant or animal cell. So far, students have made cell models out of giant cookies, cakes, clay, foam, and other creative learning material. Some made a poster; others made 3-D models or even edible ones.
The students become very excited when they learn they can make plant or animal cell models out of whatever they can imagine, or as Mrs. Pinke, BRE fifth grade teacher in charge of the unit, said, "The sky is the limit!"
Mrs. Pinke enjoys teaching this unit to students and hopes they will have fun and remember the class. "I picked this unit to teach because there are so many ways to teach it," said Mrs. Pinke. Mrs. Pinke remembers learning about mummies, who had dead cells in them, during her childhood.
The fifth grade is always trying something new and, as Albert Einstein said, "anyone who has not made a mistake has not tried anything new." BRE will always follow that rule.
Fifth grader Lily T. is very fond of this project. She made a giant cell cookie. Her favorite part was decorating it with candy and frosting. "It was a lot more fun than I thought it would be," said Lily. "I enjoyed making my cell and having my class enjoy it as well."
According to the fifth grade students, plant and animal cell modeling is a fun way to learn. The creative plant and animal cell projects are currently on display at the BRE school library where others may learn about the plant and animal cells and functions.