Annual fundraiser for furry friends in Castle Pines Village
September 1, 2012
/
/
Comments Off

on Annual fundraiser for furry friends in Castle Pines Village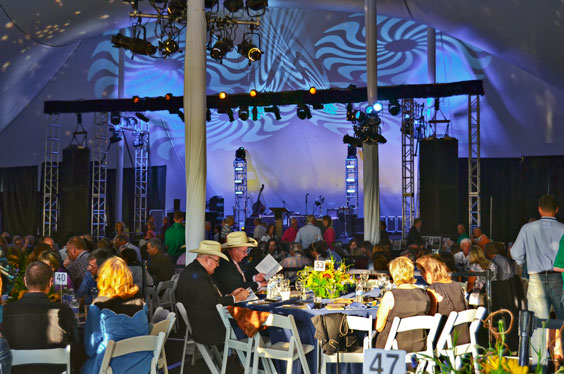 The event tent was a full house, first with dinner and then a show. Country superstar
Willie Nelson was scheduled to perform, but had to cancel do to health
concerns. A local acoustic band filled in, and the show was a complete
success!
Article and photos by Julie Montoya
On Saturday, August 18, Jana and Fred Bartlit hosted their much-anticipated annual fundraiser to benefit the Dumb Friends League. The 11th Annual Lulu's Barkin' BBQ entertained a sold-out crowd with an unforgettable night of food and furry friends at the Bartlit's home in Castle Pines Village.
Guests enjoyed a barbecue supper created by renowned chef Tom Perini of Texas, who has also prepared barbecue for President George W. Bush. The Dumb Friends League was the guest of honor, with wonderful adoptable pets that guests could adopt on sight. There was a silent and live auction, and the air was filled with the sounds of acoustic guitar performers, live on stage. Rumor has it that the 11th Annual Lulu's Barkin' BBQ shattered last years' totals for money raised to help Colorado pets in need.
Jana and Fred Bartlit started this party 11 years ago, and it has grown by leaps and bounds, with last year having raised $600,000 for the Dumb Friends League. In addition to graciously hosting this annual event, Jana and Fred have funded several other Dumb Friends League services, including the purchase of the Lulu Mobile, a mobile veterinary unit which serves pets in low-income neighborhoods.
The Dumb Friends League of Colorado provides care for more then 24,000 dogs, cats, horses and other small animals. Through the loving efforts of the Bartlits, $55,000 of the funds raised at Lulu's BBQ will go to feed the horses at the new Harmony Equine Center. Additionally, guests adopted 13 homeless pets the night of the event.
"It's truly humbling to see how much kindness and support came from our loyal Lulu's Barkin' BBQ attendees to help us with our mission of giving homeless pets and horses another chance," said Bob Rohde, president and CEO of the Dumb Friends League.
For more information on supporting the Dumb Friends League, or adopting a pet, visit www.ddfl.org or call 303-751-5772. To view a slideshow of the event, go to www.castlepinesconnection.com and click on "Photo Album."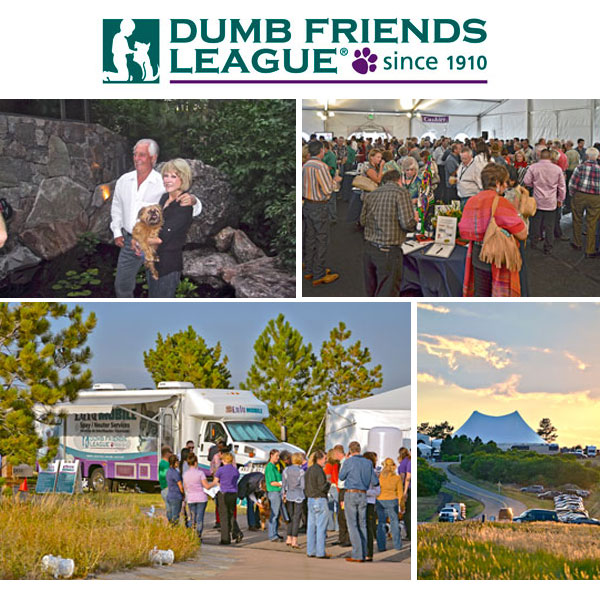 Top left, Castle Pines Village residents Jana and Fred Bartlit with their adopted dog Lulu, the inspiration and namesake for the
event. Top right, more than 600 guests contributed tothe evening's fundraising success.
Bottom left, the Lulu Mobile was on hand for guests to tour. This state-of-the-art mobile veterinary unit was purchased by the Bartlit's, for the Dumb Friends League, to bring veterinary services to low-income areas. Bottom right, the huge event tents could be seen throughout the Village, which got everyone buzzing with anticipation long before the event began.