Art show draws local professionals and amateur artists
February 1, 2016
/
/
Comments Off

on Art show draws local professionals and amateur artists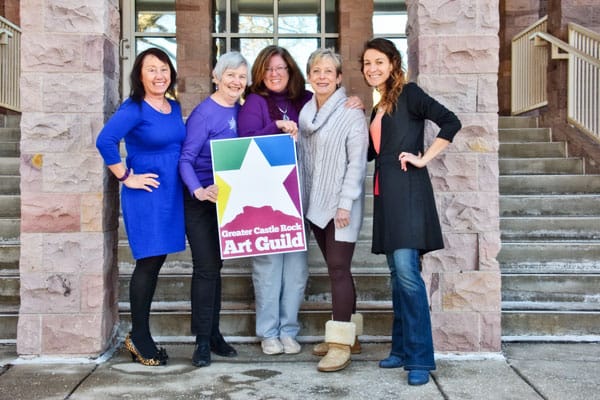 Left to right: Kristine Orr, Jacqueline Shuler, Jami Arthur, Carol Hein, and Veronica Vyhmeister are a few of the local artists who are exhibiting their art at the 12th Annual Romancing the Arts Show.


By Patte Smith; photo courtesy of Michelle Campbell
Experienced sculptors, fine arts painters, nouveau artists, and illustrators are among the many talented artists of the 80108 area whose art will be exhibited at the 12th Annual Romancing the Arts Show sponsored by The Greater Castle Rock Art Guild (GCRAG). Held at the Philip S. Miller Library, the art show runs from February 7 to March 5 and is a Valentine's celebration for loving the arts.
"This show is for professional or aspiring artists who put their heart and passion into being creative," noted Michelle Campbell, president of GCRAG. "It is about the depth and fullness that art provides both the artist and the art lover."
Two local residents who entered the show this year are Jami Arthur and Jacqueline Shuler, accomplished artists who have created works over the years in several art mediums. They both treasure their time being creative and are in awe of the joy they feel while crafting a new piece of art.
"I don't think I could thrive without a creative outlet," said Arthur, a sculptor since 2007. "I tend to be more left-brained so to let that go and create something is magical. I have no concept of time or the outside world when I'm working on a piece – it becomes me and my art for hours."
Arthur entered her sculpture "Happy Dance" into the art show. "As a sculptor it is very important to draw constantly and develop an eye for perspective and form – it is a constant learning curve. Starting a new piece is my biggest challenge. I am a direct carver and sometimes my original stone can be a couple hundred pounds. I start removing material until I see something. It is painstaking work and a challenge. If the sculpture breaks I have to create something new with the stone."
"As a painter, my favorite medium has been acrylic paint," noted Shuler, who has been an artist for 40 years. Her entry "Winter Storm" is an original digital art piece. "In the past five years, I have switched to digital art that requires the same skills as using a brush, pen, or pencil. I use complex techniques and incorporate composition skills, color theory, drawing ability, and creativity."
Shuler noted that it takes discipline to focus on one piece of art. "The ability to create drives me daily, and my mind is inundated with new images and ideas. Once I start the art process it is very relaxing and I lose track of time as I am immersed in a world of beauty."
Both artists agree they enjoy being at art shows and interacting with the people who come to enjoy the art. "Showing my art in public gives me a chance to get feedback on how my work is viewed," explained Shuler. "Perception is such a personal experience; the painting strikes a certain chord in the viewer which I do not possess."
Arthur feels that is it important to connect with the public and be able to explain the inspiration behind each piece. "Art usually has an emotional pull for some people, and they tend to develop their own feelings for a sculpture. Stone carving is an unusual medium and I get the chance to explain my craft and listen to their interpretations."
The 12th Annual Romancing the Arts Show in Castle Rock is an art enthusiast's dream. Enjoy the incredible creative pieces being exhibited and have the chance to vote for the People's Choice Award.
For more information about the art show, visit gcrag.com.