Some of the best things in life are free … even in Breckenridge
February 1, 2016
/
/
Comments Off

on Some of the best things in life are free … even in Breckenridge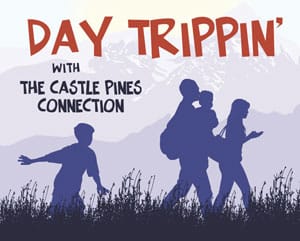 Sledding for free in the shadows of Breckenridge Ski Resort – not a bad way to spend the day!


Article and photos by Liz Jurkowski
In the wintertime, Breckenridge has much to offer: World class skiing, quaint restaurants and shops, and a busy Main Street that takes visitors back in time as they maneuver through and around the Victorian buildings. While most of the great activities require money – and sometimes a lot of it, there is one hidden little part of town where the whole family can have fun for FREE!
Carter Park is located on High Street, on the southern edge of town. Open year-round, the park has a picnic area, off-leash dog play area, parking, and a great hill. A beautiful park in any season, it draws most of its visitors in the winter, when the hill becomes the best sledding hill around.
I discovered this little gem in January, when my family went to Breckenridge to ski. It was a beautiful, sunny day – a perfect day for skiing. Unfortunately, when in the front of the lift line I was told "Sorry, but your son's pass is restricted today," and then discovering that a day pass is more than $100 to ski, we had to make a change of plans. Somebody shouted after me as I awkwardly shuffled under the ropes to get out of line, "Try Carter Park! It's free and fun."

Wade having a blast at Carter Park's sledding hill, which is not too steep and is fun for all ages.

While my husband and older son skied, my younger son and I ended up having a wonderful day, too. We picked up a ten dollar sled at the local market, made our way to Carter Park, and spent two hours sledding. We began on the north side of the hill, the easy side. Gradually, we gained courage and took off from the middle of the hill, getting closer to the bumps and jumps people had made with the snow. Finally, we graduated to the scary jumpy run, at the edge. We screamed all the way down (okay – I screamed, my son laughed). What fun!
The next time you go to Breckenridge to ski, pack a sled or two. Ski the slopes in the morning, and sled in the afternoon. It is a perfect recipe for free family fun.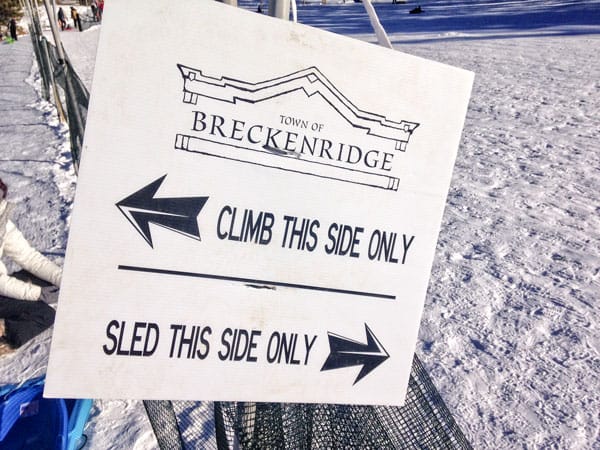 There are only two rules: Walk up on the left, sled down on the right.