Award-winning artist in our own backyard
November 1, 2011
/
/
Comments Off

on Award-winning artist in our own backyard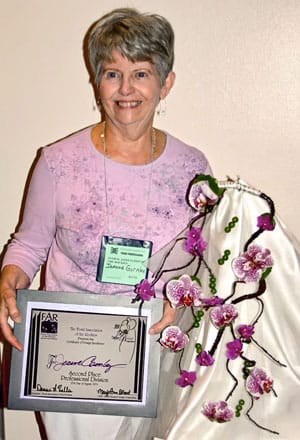 A happy and creative Jeanne Gormley holds her award for an original bridal cascade at 2011 Floral Association of the Rockies Show.
by Patte Smith
Creativity pulses through Surrey Ridge resident Jeanne Gormley. From award-winning floral design to exquisite and, yes, award-winning photography, Gormley is a true artist.
Most recently Gormley was honored at The Floral Association of the Rockies Show, held at the Denver Merchandise Mart. Gormley received second place honors for a contemporary and original bridal cascade bouquet, and Facebook voters awarded her first place from their votes. "I was pleased and honored," says a very humble Gormley. "There were many incredible professional designs and florist at the show – it was a pleasure to be part of it."
And if that wasn't enough, Gormley won twelve awards for her photography at the Douglas County Fair this past August, and two of her photographs won the two Best of Show photography categories. Creativity knows no boundaries for her.
Gormley and her husband John have lived in Surrey Ridge since 1978 where they raised seven children. Gormley said she became interested in flowers and floral design "many years ago," so she decided to attend Trim International Floral Design School. Twenty-nine years later, Gormley is still going strong as the owner of Fleurs de Jeanne, a very successful florist business that specializes in weddings, but offers other arrangements as well.
"A lot of my business is word-of-mouth," stated Gormley. "I offer my clients complete floral service – from the initial meeting to actually pinning on the boutonnieres and corsages before each wedding – I do it all and make sure it is done correctly."
Gormley stresses that the most important part of her floral work is making sure that the flowers are as fresh as possible and can hold up. She has even created a unique hand-tied bridal bouquet the keeps flowers fresh throughout the day.
"I pride myself in offering the freshest bouquets – I make them the day of the wedding if it is in the evening, or the day before for morning events, and I deliver them too. Sometimes I press my husband into service helping me," laughs Gormley.
From flowers to photography, Gormley keeps very busy and still finds time to spend with her 19 grandchildren and two great-grandchildren. Taking inspiring photographs everywhere she travels, Gormley has an incredible collection of photography on her walls, along with fun-loving family portraits.
For more information about Fleurs de Jeanne, go to weddingflowersdenver.com.