Bella Rock offers empowered hikes
August 1, 2009
/
/
Comments Off

on Bella Rock offers empowered hikes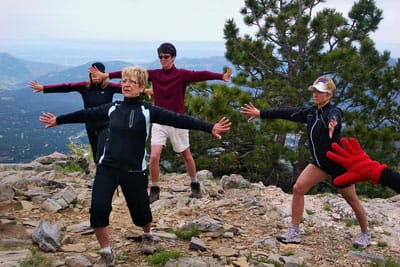 Bella Rock hikers perform Tai Chi at 8,500 feet. On June 20, seven women hiked through the wild flowers in Elk Meadow Park and then climbed Bergen Peak with Bella Rock Adventures.

by Carin R. Kirkegaard
In June, Bella Rock Adventures along with seven women hiked through Elk Meadow Park in Jefferson County open space and climbed Bergen Peak just outside of Evergreen, Colorado.
Bella Rock Adventures' intent is to empower women to experience the outdoors in a safety-conscious, environmentally aware manner. From hikes in fields filled with wildflowers to summiting some of Colorado's "fourteeners," to snowshoeing in the winter, owner, lead guide and organizer, Saralyn Crock plans a variety of events that take women to new places, both physically and spiritually.
Crock has three guides in addition to herself. While all the lead and assistant guides with Bella Rock are trained in wilderness first aid and CPR, each guide has a unique expertise and brings something extra to any given adventure.
According to Crock, the guides are present to help with anything that could come up along a hike. They remind hikers to eat and to stay hydrated throughout the adventure as well as carry extra food, water and gear. "We try to be one step ahead mentally," said Crock.
While the guides are there to help with physical issues like hydration, they also incorporate a spiritual aspect into the hike. Whether it is through meditation, Tai Chi, or Pilates, each Bella Rock adventure is designed to give women some empowerment tools to be the best they can be.
At the summit of Bergen Peak, the June hikers performed Tai Chi at 8,500 feet. New to the Colorado outdoor experience Bella Rock hiker, Marylou Giampietro said she felt safe and comfortable with Crock. "The hike was just awesome," she continued. New to Tai Chi, Giampietro had this to say, "Hey we're empowered. It was a nice add on."
Crock picks each event based on the best nature has to offer. In the spring, she picks hikes in the foothills that showcase Colorado's wild flowers and as the summer progresses the hikes turn more alpine in nature.
Hikers can expect to be up among the pines and hiking along rushing mountain streams. In the fall, Crock is planning a foothill's hike that will take participants through the changing Aspens.
Crock also plans snowshoeing excursions for the winter months and conducts customized hut trips into the mountains. To find out more about Bella Rock Adventures visit www.bellarockadventures.com.