Brekke Veterinary Clinic opens in Castle Pines Village
July 1, 2015
/
/
Comments Off

on Brekke Veterinary Clinic opens in Castle Pines Village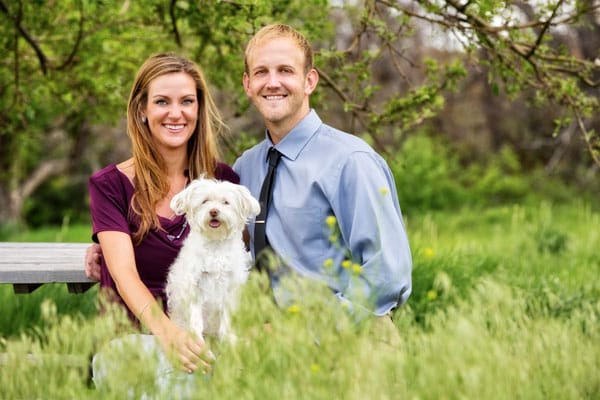 Gina and Dr. Jay Brekke are the owners of Brekke Veterinary Clinic, a new veterinary practice that will open in The Village at Castle Pines in late July or early August. The Brekkes have three dogs, including Dharma, pictured here.
By Elizabeth Wood West; photo courtesy of Mark Stevens Photography.
Pet owners in the Castle Pines community will soon have a new veterinary clinic available to care for their furry family members. Dr. Jay Brekke, DVM, along with his wife and practice manager Gina Brekke, are opening Brekke Veterinary Clinic in late July or early August. The clinic will be located at 856 W. Happy Canyon Road, Suite 120, near Canyon Fitness and next door to Castle Rock EyeWear in The Village at Castle Pines.
Gina said, "Castle Pines is an area that Jay and I have had our eye on for quite some time and have known it would be the perfect community to raise a family. Better yet, it was a perfect area for our clinic to reach local families and their pets. We've had a really warm welcome from the Castle Pines Village community and we plan to be here for a long time to come."
After completing his Doctorate of Veterinary Medicine at Colorado State University, Dr. Brekke practiced as an associate veterinarian at Fourmile Veterinary Clinic in southern Colorado for several years. Dr. Brekke credits his extensive experience to the thousands of cases he handled – which included cats, dogs, cows, and even water buffaloes.
Gina graduated from Colorado State University with a degree in human development and family studies. She said her understanding of how happiness can affect health, combined with her lifelong love for animals, has made her passionate about what she calls the "animal-human connection," adding that she is dedicated to helping people understand their pets and maintain a strong bond with them.
The Brekkes said they are looking forward to providing a personal doctor-patient experience with consistent, familiar care in comfortable, beautiful, relaxed surroundings for both animals and their owners. In addition to providing general veterinary services, on-call emergency services will be available after regular clinic hours. For further information about Brekke Veterinary Clinic, visit www.brekkevet.com or call 720-338-8893.