Businesses Find New Home in Castle Rock
August 1, 2007
/
/
Comments Off

on Businesses Find New Home in Castle Rock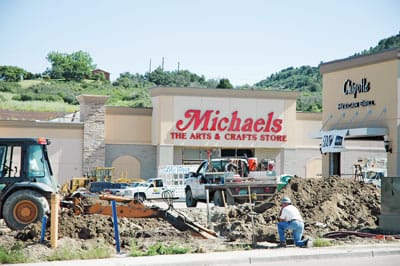 Michaels Craft Store is just one of many new shopping options under construction in Castle Rock's northern quadrant.
(photo by Lisa Crockett)

by Lisa Crockett
Whether looking to cash a check, knit a sweater or build an addition to a home, new shopping options in Castle Rock abound. A flurry of construction in Castle Rock's northern quadrant is bringing an ever-increasing number of chain stores to residents.
Michaels Craft store, on the corner of Allen Way and Allen Street (just east of Home Depot) will likely be the first new store to open its doors, with a grand opening scheduled for August 19. The grand opening will feature classes for kids and adults on topics ranging from cake decorating to puppet making.
A new FedEx Kinko's store, currently under construction on Founders Parkway and Trail Boss Lane is also on schedule for a late-summer or early-fall opening date.
"The new center features FedEx Kinko's smaller center design format that has a greater emphasis on office products and other services geared toward small businesses and mobile professionals," said FedEx Kinko's spokesperson Dominic Panone.
Other stores opening in Castle Rock this year include: Colorado Community Bank, Linens n' Things, Office Max and Chipotle Mexican Grill. Lowe's home improvement warehouse, which was scheduled to be opened last year, is now planning on an opening date sometime this winter.