Busy with high drama at RCHS
October 1, 2011
/
/
Comments Off

on Busy with high drama at RCHS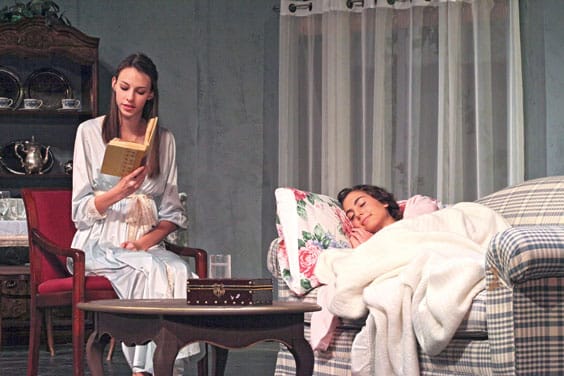 Quinn Kennedy and Lauren Wearsch
Article by Kathy Dunker with photos courtesy of Cindy Baker
Being a part of the Drama Club at Rock Canyon High School (RCHS) is no easy task. Simultaneously preparing for a number of productions, the thespians work hard to play hard at their school presentations.
Most of the backstage student leadership for the "Bad Seed" production in late September were actors who were also preparing for November's production "Dearly Beloved" while simultaneously memorizing and rehearsing roles for the Advanced Drama Class play, "On Borrowed Time," presented October 27.
Senior, Ellen Hefner, was the head of props for the first play while memorizing the two next shows at the same time. Junior, Syd Charvat, who memorized both "Bad Seed" and "On Borrowed Time" concurrently, was in rehearsal for the latter while stage managing rehearsals for "Dearly Beloved." A variation of this was also true for students, Angelica DeFranco, Morgan Hayes, Matt Hopkins, Lela Smith, Hunter Cagle, Katt Domingue, and Kinsey Riley who are in addition preparing for the upcoming Colorado State Thespian Conference.
Drama Club Officers Hefner, DeFranco, and Charvat as well as Stephanie Higgins who performed in "Bad Seed" and was stage manager for "On Borrowed Time," and Aimee Schnebeck who did the props for "Bad Seed" and a lead in "Dearly Beloved" also planned multiple Drama Club activities including nights out at Skate City, Jumpstreet, and the Chatfield corn maze, a Homecoming float that featured the singing and dancing of four boy bands, a movie night, a bake sale, community service work at a food bank, and a one act play festival, all which will take place before Thanksgiving.
The newest comedy production, "Dearly Beloved," will play November 17-19 at 7 pm in the RCHS auditorium. Drama instructor, Cindy Baker, remarked, "I am constantly amazed at how much these kids want to keep acting, keep teaching, and keep working. They seem to never get enough of all the hard work! You won't want to miss Dearly Beloved so you can see how funny they are!"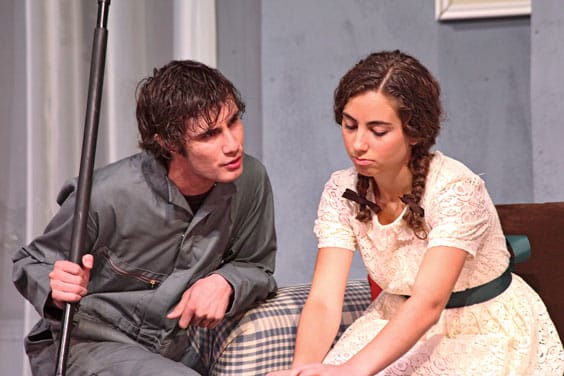 Morgan Hayes and Lauren Wearsch