Castle Pines Athletics wraps up basketball season
March 1, 2012
/
/
Comments Off

on Castle Pines Athletics wraps up basketball season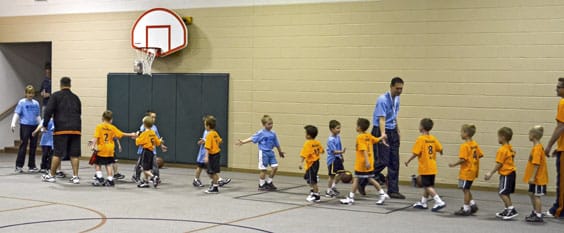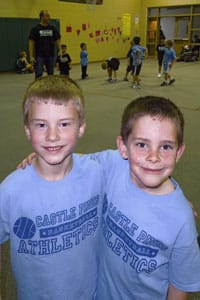 Castle Pines Athletics teammates Michael A. (left) and Anders P. (right) take a break during a basketball game for a quick photo. The "Blue Sharks," a team of pre-kindergartners and kindergarteners finished its season on February 25.


Submitted by Lane Roberts, Castle Pines Athletics with photos provided by Mark Poschl
For the second consecutive year, Castle Pines Athletics offered a recreational basketball program for children in Castle Pines. The season, which started in late November, wrapped up on February 25.
Eighteen teams of local kids enjoyed the program at the DCS Montessori School. The 10-week program featured nine recreational games for children ages four years old to fourth grade.
For preschool and kindergarten basketball coach Jen Tucker, the season was about building skills and learning sportsmanship.
"It has been such a great experience to watch the kids improve their basketball skills and really rally around each other as a team," said Tucker. "It is cool to watch them cheer for each other and get so excited when they accomplish a new skill. Every kid on our team has improved tremendously. At the beginning, some couldn't even dribble and now they are dribbling with confidence."
"Many families search for a way to keep children active during the winter months, and this program is a great fit for local families," said Shannon Terry, league manager for Castle Pines Athletics.
The basketball program brought back veteran coaches, as well as a few new faces. Special thanks to the following parent coaches:
Preschool and Kindergarten Coaches – Jeff DePasse, Dave Perovich, Nick Neira, Jennifer Tucker, Mark Poschl, Seth Goldfogel, Martin VanDerSchouw, Kevin Whitten, Scott Miller, Rob Terry and Justin Kliewer; First and Second grade Coaches – Clint Fisch, Dirk VanSlyke, Neil Wilson, Brian Levy, Andy Meyer, Todd Morton, Steve Caughlin, John Pettygrove, Lori Hodges, Mark Rawlings, Russell Sampson and George Wright; Third and Fourth grade coaches –Tom Rennell, John Merriman, John Ogden, Jerry Ogg, Grant Nelson, Eric Graning, Jesse Goble, and Bill Savallisch.
Castle Pines Athletics would also like to extend a tremendous thank you to Dr. Andrew Dunbar with Castle Pines Orthodontics and to Geoff Newman of Dazbog Coffee for continuing to support this program.
Castle Pines Athletics plans to offer basketball again next fall. Until then, registration for spring soccer is underway. The soccer season runs March 19 to May 19 with all practices and games held in Castle Pines. Summer baseball and T-ball will also be available staring in June.
To learn more about Castle Pines Athletics, please visit www.castlepinesathletics.com.