Castle Pines Village Garden Club members strut their stuff
June 1, 2015
/
/
Comments Off

on Castle Pines Village Garden Club members strut their stuff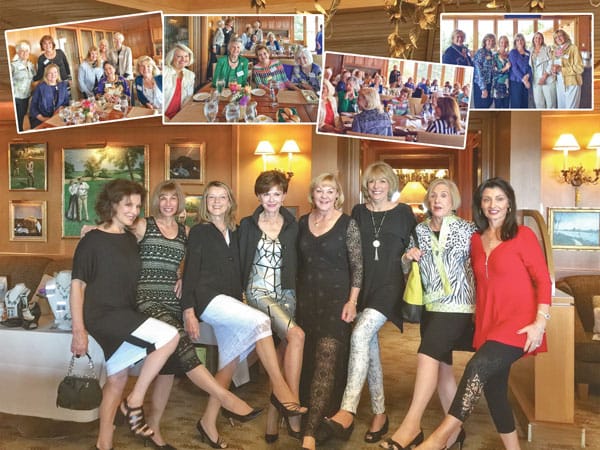 Members of the Castle Pines Village Garden Club enjoyed showing some sass while being models for the day at the club's annual banquet and fashion show. Pictured left to right: Judi Walker, Michele Volkl, Mary Evans, Peggy Schultze, Janice Wright, Kathy Pollock, Liz Clarke, and Rose Essy.

Article and photos by Amy Shanahan
The annual luncheon and fashion show is a treat that members of the Castle Pines Village Garden Club (CPVGC) look forward to every year. This year, the event was held on May 11 at the beautiful Castle Pines Golf Club and was attended by approximately 70 members of the club.
Club members served as models for the fashion show and were attired in beautiful and fun fashions from Parker Panache, a specialty boutique in downtown Parker that features unique clothing, shoes, accessories, and jewelry. The ladies enjoyed a delicious lunch and watched their friends take to the runway while engaging in wonderful conversation and shopping.
Good friends Janice Wright and Liz Clarke enjoyed being models for the day. Wright, who moved to CPV just two years ago, has made close friendships with many in the club and loves being a part of such a diverse and warm group. "I went to a new resident reception when we moved here and found out about the garden club and immediately joined. It was the best thing I ever did and it has made all the difference in my association with the neighborhood," Wright remarked. "We didn't know anyone and we really had to start over and this was an excellent entrée into the community." Clarke echoed her sentiments, "I joined the club in 1995 and enjoy the social aspects and the fact that the club serves as a wonderful place for people moving into the area to meet others. I love the camaraderie and the education we receive on a variety of subjects. We go on really cool trips!"
The CPVGC began in 1994 and brings together women who enjoy gardening, socializing, and giving back. The club hosts numerous events throughout the year from June to May, and it is always open to new members (who need not live in Castle Pines Village). Each event, including three luncheons, is coupled with raising money for a worthy cause.
To learn more or to become a member of CPVGC, visit www.cpvgc.org. To learn more about Parker Panache Boutique, visit www.ShopParkerPanache.com.