County Raises Speed Limit on Castle Pines Parkway – CPN Master Association Responds
December 1, 2006
/
/
Comments Off

on County Raises Speed Limit on Castle Pines Parkway – CPN Master Association Responds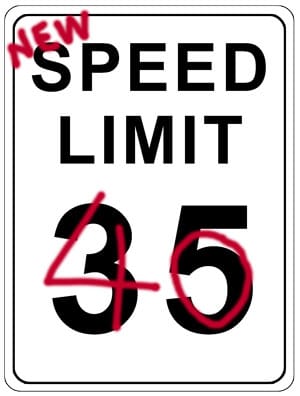 by Terri Wiebold
Castle Pines North (CPN) residents have seen a change in the speed limit signs on Castle Pines Parkway between Buffalo Trail and I-25. This change was implemented as a result of the findings of an engineering study conducted by Douglas County and a resolution signed by the Board of County Commissioners in August. New speed limit signs were posted in October, officially raising the speed limit on Castle Pines Parkway from 35 miles per hour (mph) to 40 mph.
Although the CPN Master Association was aware that speed studies were being conducted on Castle Pines Parkway and Monarch Boulevard in 2006, board members were surprised when the speed limit was increased.
"We had no idea the studies were complete and that the County Commissioners had voted on this increase," said Janet Conner, Master Association Safety Chairperson. "We were definitely caught off guard." The Master Association received an abundance of e-mails from residents opposing the increase. In response, Master Association President, Maureen Shul, sent a letter to the County taking the position that the Master Association did NOT support the speed limit increase. Shul also requested the County provide additional safety measures along Castle Pines Parkway, including a fence or natural barrier between the sledding hill and Castle Pines Parkway, and three-way stops at unprotected intersections like the entrances to The Retreat and BristleCone neighborhoods of CPN. The Master Association has requested to meet with County representatives to discuss these options, but no meeting was set as of press time.
The County's Position
The Board of County Commissioners based its decision on a recommendation from the Douglas County Public Works Department. According to Principal Traffic Engineer Alex Larson, feedback from motorists earlier this year prompted Public Works to conduct traffic engineering studies to determine the safe and appropriate speed for Castle Pines Parkway and Monarch Boulevard. Note: Although these studies were also conducted on Monarch Boulevard, no changes to the speed limit are anticipated at this time.
The speed study included three separate readings – approximately 100 samples per reading – of vehicle speeds taken with a radar gun from an unmarked vehicle during normal (off-peak) times. "This is important because the readings should be taken when conditions are ideal," said Larson.
This does not take into account rush-hour traffic, as motorists are always expected to follow the basic speed rule: According to Colorado Revised Statutes, "no person shall drive a vehicle at a speed greater than is reasonable and prudent under the conditions then existing (CRS 42-4-1101(1))." The study also does not take into account times when school traffic is present. During those times, reduced speed limits are in effect by the use of flashing signs in school zones.
Data collected during the study indicated that the majority of motorists (approximately 85 percent) were found to be safely driving at or below 42 mph. In addition to the speed study, the County also evaluated the sight distance from side streets, as well as accident records for Castle Pines Parkway. Given the results of all these studies, Public Works determined the appropriate speed for the roadway to be 40 mph.
"We anticipate this will result in a more uniform flow of traffic," said Larson, "including more consistent speeds and more defined breaks in traffic."
A detailed explanation of how and why speed limits are determined titled "The Psychology of Speed Limits" can be found at www.cpnhoa.org. For additional information about the speed limits in CPN, or to request an investigation of a particular speed limit along other segments of roadway in the county, contact Douglas County Traffic Engineering at 303-660-7490 or traffic@douglas.co.us.
To request enforcement of existing speed limits, contact the Douglas County Sheriff's Office Traffic Safety Hotline at 303-660-7539.