Delays expected for Quebec and Lincoln-University
September 1, 2012
/
/
Comments Off

on Delays expected for Quebec and Lincoln-University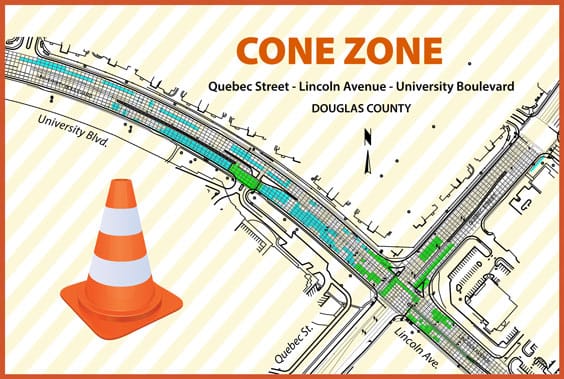 By Elizabeth Wood West
Beginning the first part of October, drivers may want to avoid the vicinity of the Quebec and Lincoln-University intersection and find roadway alternatives. Douglas County is scheduled to begin work on a 60-day multi-phase operational and maintenance roadway project that will focus on improvements and approaches to this busy intersection, causing some major delays.
The first phase of the project will involve the removal and replacement of approximately 8,700 square yards of existing pavement. Construction is estimated to start by October 2012 and to be completed by December 2012.
The second phase of the project will involve adding a northbound right-turn lane from Quebec Street to Lincoln Avenue. The second phase is currently in the design process and is estimated to be constructed sometime in the spring of 2013.
Additional phases of the project will include the widening of all roadways of the intersection to provide for additional traffic and bicycle lanes through the intersection.
According to the county's exhibit (pictured above right), the blue areas of the project will be constructed during the day (8:30 a.m. to 3:30 p.m.) and the green areas of the project will be constructed at night (7:30 p.m. to 6:30 a.m.). Multiple lane closures will begin with the start of construction and will continue throughout the project. The county will post weekly lane closure reports for the project on its website.
For further information, contact e-mail Sean Owens or visit www.douglas.co.us/engineering.