Douglas County makes health history
February 1, 2011
/
/
Comments Off

on Douglas County makes health history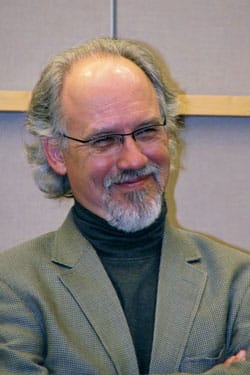 Jamie Larue
In college, I got a bean bag chair. I also gave up the daily exercise program I'd followed for years. There was neither privacy nor room in my dorm.
By the end of the second semester, suddenly, I had a problem. I was in constant lower back and limb pain. I started to need to walk with a cane.
A visit to the doctor revealed that I had a small hole in my spine. The problem traced back to a condition called spina bifida. It's a birth defect.
In my case, I could control it simply by getting rid of the bean bag chair and going back to my exercise routine.
But tens of thousands of people suffer from spina bifida. Eventually, after lots of research, it turned out that there's a simple "cure:" pregnant women need to take a daily B-vitamin with folic acid.
That's it. Spina bifida is largely preventable.
Now suppose you knew that you could make a big difference in the quality of human life, particularly in the area of what makes a healthy child. You wouldn't have to change anything about your own life, other than to pay attention, and to contribute information to a scientific study. You would do it, right? Why wouldn't you?
There are a few catches. This is a big study — you'd sign up for 21 years. You'd be a volunteer. It's not a paid job. You have to live in Douglas County, Colorado. We are one of just 105 counties in the United States selected from which to gather data.
And most important: you have to be, or trying to be, pregnant. (Sorry, men. This influential opportunity is available to women only.) In brief, that's the aim of the National Children's Study. You can find out more about it at www.nationalchildrensstudy.gov.
Or as they put it, "The National Children's Study will examine the effects of the environment, as broadly defined to include factors such as air, water, diet, sound, family dynamics, community and cultural influences, and genetics on the growth, development, and health of children across the United States, following them from before birth until age 21 years. The goal of the Study is to improve the health and well-being of children and contribute to understanding the role various factors have on health and disease. Findings from the Study will be made available as the research progresses, making potential benefits known to the public as soon as possible."
It's hard to know in advance what the findings will be. Not all children's health issues — diabetes, mental illness, autism, asthma, and so on — may have such straightforward remedies as spina bifida did.
But the way we learn big things is through the steady accretion of small details.
If you're interested in participating, and I hope you are, understand that there are two levels.
The first, the most engaged, is only available to those who live within particular ranges of addresses. These have been selected randomly throughout
the county.
To maintain statistical validity (and thus make the data collection truly significant), these folks will contribute the most information. Who they are, of course, is strictly confidential. Anonymity will be strictly preserved, unless they choose to identify themselves.
Nor will participants be in any way judged. You never know: pizza and video games just might be the key to childhood vitality.
A second level, those who don't happen to live at those addresses, can still help.
They can talk about it enough to help the study recruit the first group. They can contribute many other kinds of information that may prove helpful. Ultimately, the goal is to find 1,000 Douglas County participants, and over 100,000 participants nationwide. The National Children's Study may well help unravel issues that have plagued our children since the dawn of time.
Interested Douglas County women should call 303-799-6257, or e-mail.
It's no exaggeration to say that this study will make history. Don't you want to be a part of it?
LaRue's Views are his own.