Great food for get well soon – Stuffed Pasta Shells
March 1, 2013
/
/
Comments Off

on Great food for get well soon – Stuffed Pasta Shells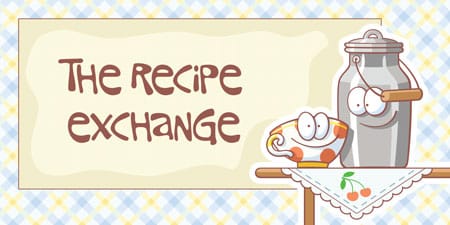 Story and photo by Lisa Crockett
The best meal I have ever eaten was served in my own kitchen. The cooking, however, wasn't done by me, but by a friend in her kitchen and served to me in an assortment of tin-foil pans and paper plates. After doing an eight-day stint at Children's Hospital with one of my kids who had suffered a serious and frightening bout of pneumonia, I was exhausted, physically and emotionally. When we finally came home, I could have sworn that I was hungry only for a good night's rest in my own bed. But when my friend showed up on my front porch bearing a home-cooked meal, I discovered that not only was I hungry, I was ravenous.
It was a simple meal, but everything was fresh and delicious. Chicken that was tender and juicy, potatoes baked just right, salad with crunchy greens and dried fruit. Two years later, I remember that meal in great detail not only because it was tasty and I was starving, but also because it was delivered at the moment my family and I needed it the most. For me to go to the kitchen and cook would have been out of the question, and after what we'd been through, a trip to a restaurant or even a takeout window was simply more than anyone in the family had the energy for.
I have enjoyed other such meals in my life. I still crave another serving of the peanut butter pie given to me by a friend when I was a new mother to my first child. A thoughtful neighbor delivered a container of her family's favorite vegetable soup one harried afternoon when I was managing three children under the age of three. Just last week a dear friend provided a beautiful salad for our dinner for no reason in particular, and I couldn't have been more delighted. Bearing that in mind, I try to cook for others whenever I can, and life provides lots of opportunities – everything from this year's flu season to a friend with a chronic illness ensures I get to share love from my kitchen on a regular basis.
Cooking for someone is a great way to show you care, and with a few pointers it can be fairly easy too: disposable containers are great – the local "dollar store" is a perfect place to pick up foil pans and plastic containers. Salad kits in a bag from the grocery store are a convenient way to deliver a side dish in a container that doesn't need to be returned, and it contains the perfect amount of dressing and won't wilt between your house and its destination. Making a double batch of your favorite casserole, pasta or quiche is a simple way to feed two families and ensures the giver and the receiver both get a great meal.
If you suspect the meal might not get eaten right away, send something that can easily be frozen like soup, chili, or baked pasta. Stick with dishes you've cooked before and go easy on anything spicy or exotic. Finally, remember that food need not be fancy to be appreciated. Take a tried-and-true favorite, deliver it with a smile, and know that kindness adds a flavor all its own.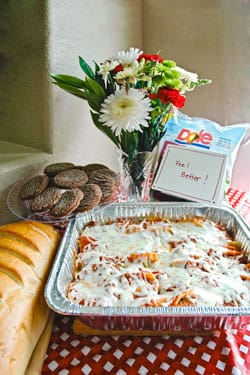 Stuffed pasta shells
These shells come together easily, but look a little fancier than simple pasta with meat sauce. Double the batch and bake in two pans for a crowd. Deliver with a bag of salad and a loaf of crusty bread for a complete meal.
One yellow onion, minced
Two pounds ground beef
½ tablespoon dried basil
½ tablespoon Italian seasoning
1 can tomato paste
1 egg, beaten
½ cup Italian-style bread crumbs
2 cups shredded mozzarella cheese, divided
6 ounces of jumbo shell past
1 28 ounce jar of marinara sauce, or three cups of your favorite homemade sauce
Preheat oven to 350 degrees.
Cook pasta shells according to package directions in water with a teaspoon of oil added to prevent sticking. Let cool slightly while preparing meat mixture.
Brown ground beef and onion together until onions are soft, then add basil and Italian seasoning. Add salt and pepper to taste. Remove mixture from heat and add tomato paste, egg, bread crumbs and one cup of the mozzarella. Fill shells with meat mixture (roughly two tablespoons per shell) and place in a greased 9×13 pan. Cover shells with marinara sauce and then sprinkle with the remaining cup of mozzarella.
Cover pan tightly with foil and bake for 45 minutes to one hour, until cheese is melted and bubbly.