Hard work + fun = Math Counts club at Rocky Heights
March 1, 2014
/
/
Comments Off

on Hard work + fun = Math Counts club at Rocky Heights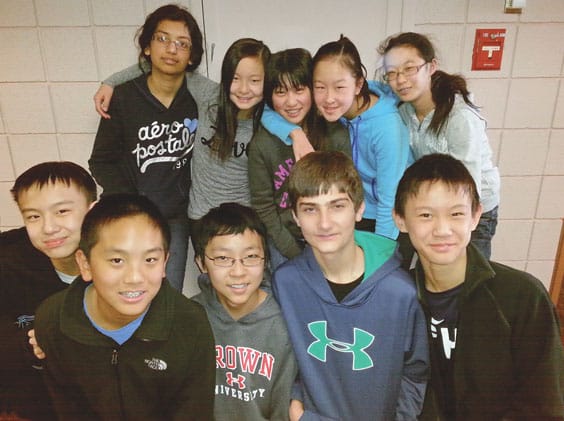 These ten students from RHMS competed against the top math students in the region. Luke Zhang, Carissa Tan, Amber Liu and Sonia Chu took second place as a team and will move on to the state competition.
By Amy Shanahan; photo courtesy of Christopher Gowing
Rocky Heights Middle School was proud to take second place in the regional Math Counts competition on February 8 at the University of Denver. Math Counts is a middle school competitive math program that encourages achievement in math through competitions among schools.
Thirty-five teams competed in the regional competition and RHMS entered a team of 10 individual students, with the four top kids also competing together as a team. The students endured three rounds of written questions and the group of four worked as a team and scored within the top ten percent of the competitors, putting them in second place overall.
Eighth grade math teacher Christopher Gowing oversees the Math Counts club and was thrilled with how the students performed. "They are an amazingly gifted group of students. They are not only gifted in math, but they also are a great deal of fun. I have really enjoyed my time with the students this year."
The students will be competing in the state Math Counts competition on Saturday, March 15 at the School of Mines.