Junior year in Malaysia: pines to palms (Part two of a two-part series)
August 1, 2017
/
/
Comments Off

on Junior year in Malaysia: pines to palms (Part two of a two-part series)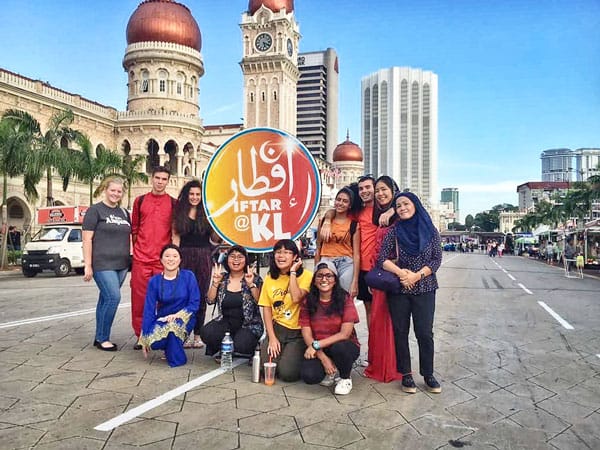 Maria Pangalos and other exchange students from around the world with the local AFS volunteers breaking fast in the city of Kuala Lumpur in Dataran Merdeka (freedom/national square). During the month of Ramadan, nothing should enter the body from dawn until dusk, so coming together to break fast is a special celebration.

Article and photos by Maria Pangalos, RCHS intern writer
My junior year of high school in Malaysia resulted in a multitude of successes; from the dismantling of American stereotypes in my host community, to my understanding of Malaysian culture and religion. The multi-national bond that was created transcended differences often seen as unbreakable walls.
As mentioned in part one in the July issue of The Connection, my year in Malaysia was marked by constant festivals and holidays. The first large-scale Indian celebration was Deepavali (also known as Diwali). I took a train from the capital to Ipoh, Perak, one of Malaysia's largest Indian areas, and was hosted by a wonderful elderly Indian lady. My host has a big family, and we spent the week celebrating by eating spicy foods, going to temples, and decorating everything we could, from the sidewalks with colorful rice paste to the skies with hundreds of fireworks. The celebration was magical, and it began to help me realize the vast differences between two of the three primary ethnic groups in Malaysia. I will miss waking up to the smell of curry simmering and Bollywood soundtracks in rhythm with the ringing prayer bell.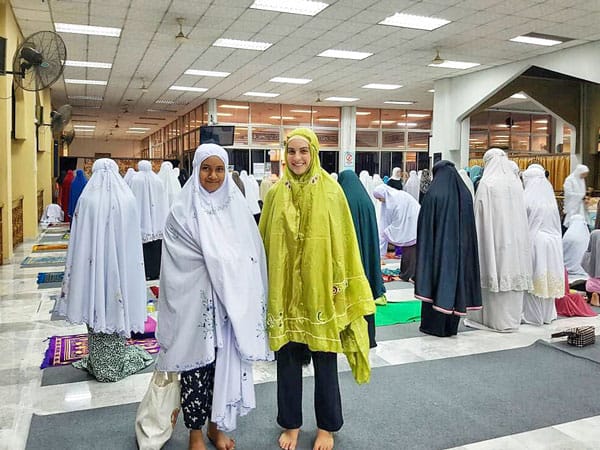 Maria Pangalos (right) and her host sister (left) at their local mosque on the first night of Ramadan. This was Maria's first time praying in a mosque, out of respect for the culture and her host family. She's wearing an Islamic prayer dress and long pants to cover her ankles. In Islam, when you are not outside, you must take off your socks and shoes due to cleanliness. During prayer it is important your body be free of toxins – no makeup, perfume, or anything unnatural.
In January, we celebrated Chinese New Year. My best friend Matteo from France and I took another train from Kuala Lumpur to Seremban, and we were immediately immersed in Chinese culture with firecrackers, luck-based gambling and magnificent food. We were fortunate to be placed in the same host family, and it was again, magical, but very different than my experience with the other two families I had lived with previously. One of the most memorable experiences from Chinese New Year was tossing the Yee Sang, a raw fish salad, with our host family. In Malaysia, Yee Sang, or Prosperity Toss, is arguably the biggest cornerstone of Chinese New Year.
In late June, I returned to America, grown and changed, thanks to the AFS-USA and AFS Malaysia organizations, my host families, host school and my best friends. The journey of youth diplomacy in the turbulent political and social atmosphere of 2016-2017 was eye-opening, amazing, challenging and absolutely incredible in every form.
Back in Colorado, as I return to Rock Canyon High School for my senior year, I want to help dissipate the misunderstandings and prejudices against marginalized communities to help cultivate a more peaceful environment for all on a local and global scale.
If you are interested in volunteering with an exchange program, hosting, or sending your child abroad, visit www.yes-abroad.org and/or www.afsusa.org for more information.