Library accepts donation from city, looks ahead for fundraisers to come
October 1, 2011
/
/
Comments Off

on Library accepts donation from city, looks ahead for fundraisers to come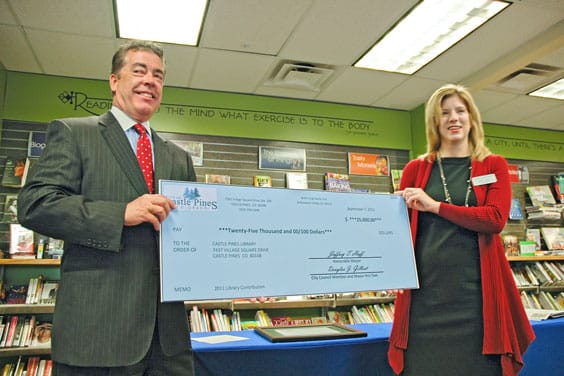 Castle Pines Mayor Jeff Huff (left) presents a check for $25,000 from the City of Castle Pines to Amy Hunt, president of the Douglas County Libraries Board of Trustees. The contribution was made to the campaign being waged by area residents to raise $100,000 to keep the Castle Pines Library open for the next three years.
Article and photo by Lisa Crockett
In September, the City of Castle Pines presented the Castle Pines Library with a check for $25,000. The contribution is half of the amount the city has pledged in support of the library. The other half will be contributed in 2012, pending private contributions in an equal amount.
"Thanks to Mayor Huff and the City of Castle Pines for this library," said Amy Hunt, president of the Douglas County Libraries Board of Trustees, when she accepted the donation from the city on behalf of the library. "This library is an amazing asset to the community; it's all about literacy and lifelong learning."
Area businesses have partnered with the library to raise funds as well. In August, four area restaurants – Little Italy, Las Fajitas, La Dolce Vita and Duke's Steakhouse partnered with the library campaign by donating a portion of their profits to the library on designated days.
"We raised a grand total of $2,009.48," said Vicky Kellen the restaurant nights coordinator for the library fund. "We hope to do something similar during the winter months."
The library fundraising committee partnered with the Castle Pines North Master Association during the Castle Pines Oktoberfest last month to raise money, too. A silent auction earned more than $1,100 and the Master Association's corn roast raised another $220.
Other opportunities to contribute to the library "Let's Keep a Good Thing Going" campaign:
*Sponsor the library for a day. Visit the Castle Pines Chamber of Commerce website for details at www.castlepineschamber.com and click on the "Make it Your Day" link. Sponsorships are available to individuals or groups. Sponsors will be recognized in various ways; visit the chamber website for details.
*Take a $20 introductory lesson with CaBu Pilates between October 3 and October 14 and all proceeds will go to the library. Visit www.cabupilates.com.
*On October 22 at 9 a.m., a trial run for a springtime benefit race will be held in Daniels Park. Runners interested in running the route and providing feedback are invited to meet at the Daniels Park Pavilion. The actual race, called "Run Wild" will be held in 2012; the date has not been determined.
*In January, a pancake breakfast will be held to benefit the library. Details of the breakfast are being determined.
*Use the Castle Pines Library card at King Soopers to purchase groceries and gas.
The library also accepts donations online, visit: DouglasCountyLibraries.org; click "Donate it."