Local moms' fall clothing exchange – Reduce, reuse and recycle
December 1, 2009
/
/
Comments Off

on Local moms' fall clothing exchange – Reduce, reuse and recycle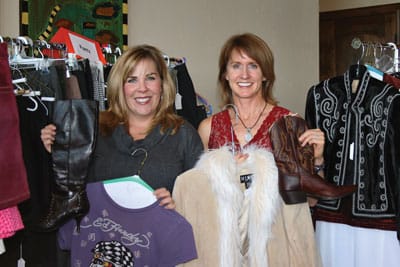 Kathi Mercer (left) and Saralyn Crock (right) show-off some of the great finds at the Fall Clothing Exchange on November 5.Cloth
Article and photo by Elean Gersack
It does not take long for good ideas to fly rampant when moms start talking. But, actually doing something about them can be another story. Not so for Kathi Mercer of Castle Pines Village and Saralyn Crock of Castle Pines North.
Through random conversations with other mom friends last spring – mostly during children's sporting events – a common theme arose. The economy was causing many to slow down and watch spending. For Mercer and Crock, like many others, there were items scattered in closets, some with price tags still on, that were too big, too small or just having been a poor purchase choice. However, they thought, these items just might find a perfect home with someone else – perhaps a consignment sale was in order.
With that, Mercer and Crock embarked on a little research to see if others had similarly filled closets. The answer was an overwhelming "yes". So, with much interest, the ladies devised a plan and picked a date, a time and a place and invited friends to consign and to shop from fashionable items priced at 25% to 50% of original value. According to Mercer, it was an opportunity for women to simplify, in other words – reduce, reuse and recycle.
Typical consignment stores take a hefty percentage on sales. Mercer and Crock had no plans for a profit-making event, so instead charged a flat $10 fee to cover the cost of tags, hors d'oeuvres and inventory tracking. More than 30 women consigned items while about twice that many came just to shop during the eight-hour open house on November 5.
"The event was about being frugal and being more giving," said Mercer. Although saving money and helping to find new homes for clothing items was inspiration alone, it was also highly important to Mercer and Crock to incorporate a charity component to the exchange. So consigners were given the choice to keep or donate items not purchased.
They selected the Douglas County Task Force to receive leftover items because of Crock's volunteer efforts with both the Women's Crisis Center and the Family Outreach Center. "It's such a necessary service for women and families. The women who go to the shelter can obtain items from the Task Force," said Crock.
Down the road, the two may consider embarking on another similar event. Many friends have suggested a children's or sports equipment exchange. Only time will tell on that front. One thing is for certain – these ladies are doing what they set out to do. "Our goal was to have fun and to help ourselves and other women to reduce clutter and maintain a carbon neutral footprint by purchasing items that are already made," said Crock.