New clothing boutique comes to Castle Pines
November 1, 2015
/
/
Comments Off

on New clothing boutique comes to Castle Pines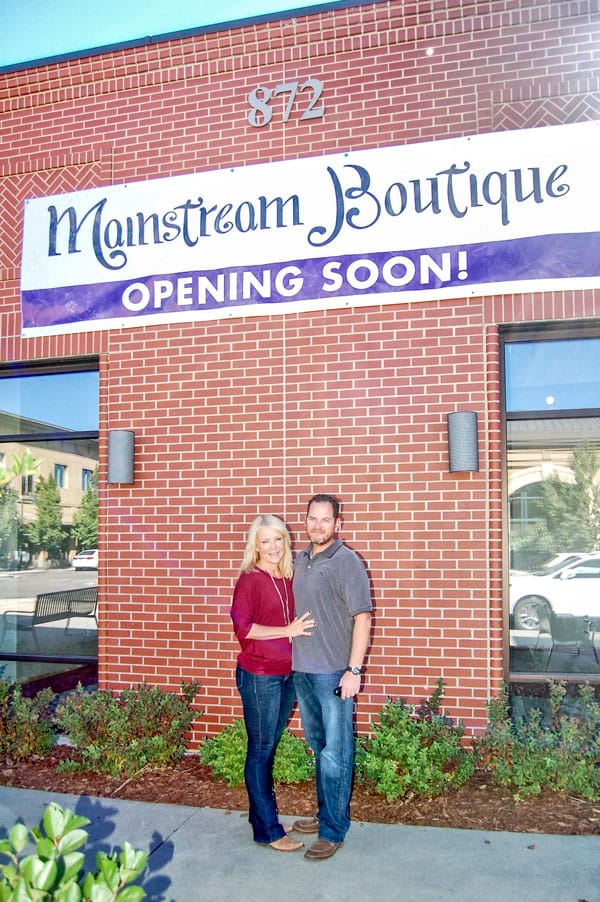 Mainstream Boutique owner Dawn Johnson is excited to open her second location of this popular clothing boutique in the heart of Castle Pines Village. Husband Lance has worked tirelessly to renovate the space to make it warm and appealing for their grand opening this month.

Article and photo by Amy Shanahan
Women of all ages will be thrilled when they see the offerings at the new Mainstream Boutique, opening mid November in The Village at Castle Pines (VACP). This wonderful new clothing boutique is owned by Dawn Johnson and is the second location for this high-energy entrepreneur.
Johnson opened her first Mainstream Boutique two years ago at Southlands Mall in Aurora and it has been a very successful business for her. Johnson began looking at a second location in Castle Pines over a year ago, and was thrilled when the perfect spot came available recently in the VACP. "I like the quaint feel of Castle Pines," remarked Johnson. "As soon as I came here I knew I wanted to be here. The location fits what our brand is about…a laid back flow and a great Colorado vibe."
Mainstream Boutique features clothing, jewelry, accessories, purses, shoes and boots, and prides itself on appealing to women ages 13 to 90. The shop caters to women of all body shapes and styles and the clothing is high quality at a very reasonable price point. The new space is somewhat small, so Johnson is looking forward to bringing in new items from her 700 vendors in limited quantities on a continual basis.
Johnson opened her original Mainstream Boutique in order to teach her daughter about hard work and success and as a legacy to her. Johnson feels strongly about the power of women in the workforce. "I wanted to set up a vehicle for women to work and get back into the work force. Our hours are conducive to moms and I feel strongly about keeping the business small and supporting other local businesses," stated Johnson. To that end, Johnson supports local Colorado vendors by selling their jewelry and other items in her shop.
Johnson utilizes Facebook extensively to promote the items in her shop, and she posts photos of new items on a nightly basis. Shoppers are encouraged to log on and see what is coming each day and Johnson is happy to hold items upon request. To find the boutique on Facebook, search Mainstream Boutique – Castle Pines CO.
Mainstream Boutique is located in The Village at Castle Pines at the corner of Happy Canyon Road and Santa Fe. Store hours are Tuesday through Friday from 10 a.m. to 6 p.m., Saturday from 10 a.m. to 5 p.m., closed Sunday, and open Monday by appointment only.