New leadership at The Country Club at Castle Pines
July 1, 2015
/
/
Comments Off

on New leadership at The Country Club at Castle Pines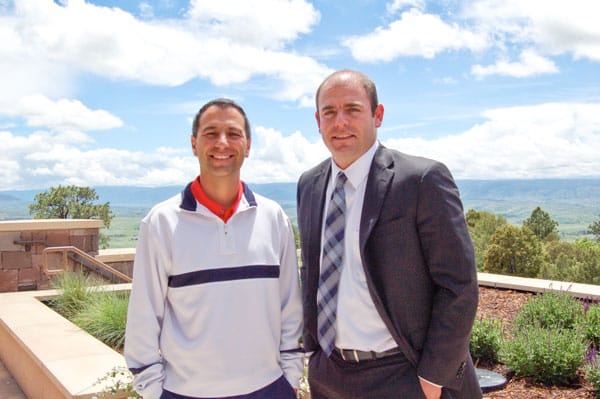 The Country Club at Castle Pines (CCCP) is pleased to welcome its new head golf professional, Dave Lopez and its new general manager, Ryan Cozzetto. Together the two are looking to bring the CCCP to the next level. "We want to be recognized as one of the top clubs in Colorado," stated Cozzetto.
Article and photo by Amy Shanahan
The last three months have been unusually busy at The Country Club at Castle Pines (CCCP) as it welcomed its new chief operating officer and general manager, Ryan Cozzetto and its new head golf professional, Dave Lopez.
Cozzetto relocated to Colorado from Pebble Beach, California where he worked most recently at the Monterey Peninsula Country Club. Cozzetto brings 12 years of industry experience into his new role and he is excited about the challenge.
"This is a great club with fantastic membership and an excellent team of employees," remarked Cozzetto. "My fiancée has family in the area so it was a great move both personally and professionally." Cozzetto looks forward to enhancing what is already in place at the club. "It's about continuing a commitment to excellence with attention to detail both at the club level and with our dining experiences."
Lopez is a native of Colorado who began working at a golf course at the age of 13. Lopez had the distinction of being an Evans Scholar at the University of Colorado, and turned professional at the Meridian Golf Club in Englewood. Most recently Lopez served as the director of golf at the Beaver Creek Golf Club. Now after 30 years in the business, Lopez is thrilled to be a part of such a prestigious club in such a beautiful part of the state. "Everyone has been fabulous and I love being in the south part of town. It's like being in the mountains but the golf season is much longer," stated Lopez.
Together Cozzetto and Lopez are looking at ways to improve all aspects of the club for its members, while retaining all of the fundamental attractions.
For more information regarding the CCCP, visit www.ccatcastlepines.com.