November 1, 2019
/
/
Comments Off

on Off we go!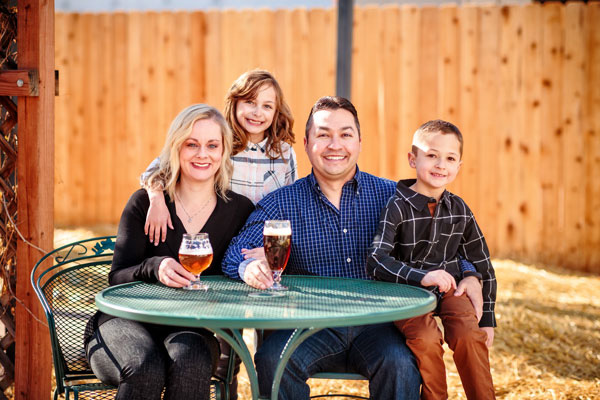 The Wasson family (pictured left to right) Rachel, daughter Reese (10), Andrew, and son Austin (8) found the perfect location for their brewpub in historic downtown Castle Rock which opened in October of last year.


By Kathy Fallert; photos courtesy of Andrew Wasson
What do you get when you combine three family members, all Air Force veterans, with a love for beer and food? The appropriately named Wild Blue Yonder Brewing Co. in Castle Rock is the result. Brothers Dean and Andrew Wasson along with Andrew's wife, Rachel Wasson, all alumni of New Mexico State University and local residents, opened their brewpub in downtown Castle Rock (the former historic location of Augustine Grill) in October of last year.
Younger brother Andrew received an Air Force ROTC scholarship in high school that paid for college and all expenses. After graduation, Andrew had a four-year commitment to the Air Force to serve as an active duty officer. Andrew commented, "My father and uncles are all veterans and I thought it was a great opportunity to serve my country and travel the world." Andrew served four years from 1998 to 2002 and made the rank of captain serving at Kirtland Air Force Base in Albuquerque, New Mexico.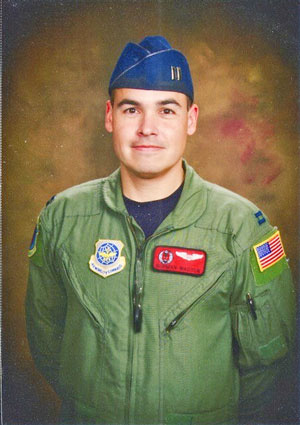 Dean Wasson served in the Air Force for 10 years before delving into a formal education in beer and food. Dean now has pastry and baking degrees from Johnson & Wales as well as having completed the Master Brewers course from UC Davis.

After his service ended, Andrew reflected, "I wanted to continue my management experience and was selected for the highly competitive Store Leadership Program with The Home Depot. While in that corporate development program, I started buying investment real estate on the side. After a couple of years, I was successful enough to go into real estate full-time. After nearly 15 years, I opened up my own real estate company and used those business skills to launch Wild Blue Yonder."
Rachel Wasson grew up an Air Force brat as her dad served more than 24 years of active duty. "As I graduated from high school overseas, I knew I would not know anyone at college. The Air Force had been my only home so I gravitated toward the ROTC program. I decided to give it a shot since the outcome would be a guaranteed career once I finished college," Rachel commented.
Rachel achieved the rank of captain during her six and a half year stint with the Air Force, and that's also where she met Andrew. Rachel reflected, "Andrew and I were both enrolled in the Air Force ROTC program there, but Andrew was a few years ahead of me. He was an older cadet in the program so I knew of him, but never really spent any time around him. My first assignment happened to be at the same base he was stationed at. I ran into him while he was eating a burrito with a coworker of mine in my building's dining cantina. And the rest is history!"
Older brother Dean applied for Officer Training School a few years after he was laid off as a manufacturing engineer and began his Air Force career at the age of 26 in 2003. He went in as a C-130 navigator and was stationed at Little Rock AFB in Arkansas for five years. He flew for the 50th and 53rd Airlift Squadrons before relocating to Cannon AFB in New Mexico and flew AC-130H gunships for the 16 SOS. Dean left the Air Force in 2013 after serving 10 years and seven deployments.
Dean commented, "I developed an interest in cooking while I was attending New Mexico State University for my degree in mechanical engineering. I had worked at several restaurants while I attended college, most notably Tatsu in Las Cruces, New Mexico as a sushi chef and I did a three-month internship at Disney World for fun. I always enjoyed watching cooking shows like Iron Chef, and these shows really perked my interest in cooking. I also worked as a server at a brewpub called The Unlikely Cowboy in Scottsdale. I really liked the idea of a brewery that served great food and this was pretty much the beginning of my interest in opening up my own brewpub concept."
Dean started homebrewing as a hobby while stationed at Little Rock AFB. After leaving the Air Force in 2013, he enrolled in the Master Brewers Certificate Program at UC Davis, California. He moved to Denver and worked both at Coors Brewing Company and then The Infinite Monkey Theorem winery before deciding to enroll at Johnson & Wales to pursue a culinary arts degree.
Dean commented, "I figured it would be critical to be fully knowledgeable in all aspects of the brewing and culinary fields if I wanted to have a place of my own. I now have dual degrees in Culinary Arts and Baking and Pastry Arts." Dean worked at a number of jobs in the field, including Disney World's International Food & Wine Festival as a demonstration chef where he got the opportunity to work with celebrity chefs from all over the world. "I was working at Epcot when Andrew and Rachel found the property for sale that would eventually become Wild Blue Yonder Brewing Co.," he reflected.

Andrew and Rachel Wasson partnered with Andrew's brother Dean to create Wild Blue Yonder Brewing Co. in Castle Rock.

Now starting its second year in business, Wild Blue Yonder has donated more than $7,500 during its first year to various veteran and first responder causes, including Purple Heart Homes, Fight Oar Die, Douglas County Veterans Monument Foundation and the Douglas County Fallen Officer's Fund. They also made a large donation to the Camp Fire Relief Fund.
To learn more about Wild Blue Yonder Brewing Co. and to see the menu, visit www.wildblueyonderbrewing.com.