Principal by day, Castle Pines resident by night
December 1, 2012
/
/
Comments Off

on Principal by day, Castle Pines resident by night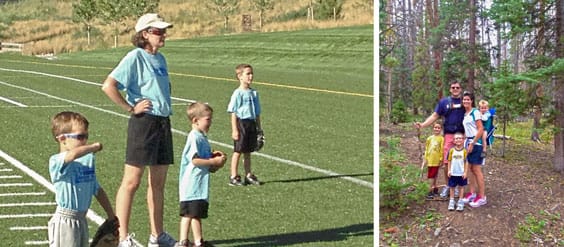 Left: Katie Abner coaches t-ball and soccer through Castle Pines Athletics, as well as teaching private and group swim lessons in the Castle Rock and Castle Pines area. Right: Abner and his family enjoy hiking in the Rockies in their spare time.
By Kathy Dunker; photos courtesy of the Abner family
Rock Canyon High School (RCHS) Principal Andy Abner is in his second year as the school's administrator and also in his second year as a resident in Castle Pines HOA1. With in-laws close by in Forest Park, the Abner family enjoys all that Castle Pines has to offer.
Abner lives with his wife Katie, a teacher at Arapahoe High School, and three boys Charlie age two, Liam age four, and Andrew age six who is a kindergartener at Buffalo Ridge Elementary (BRE). Says Abner, "We love Castle Pines and feel we are living the 'American dream'. We live near BRE and we enjoy the many activities there. We love to hang out at the pool in the summer time and we enjoy all of the parks and recreation. We walk and bike to parks frequently. We enjoy sledding in the area in the winter time."
After living in Castle Rock for 10 years as assistant principal at Douglas County High School (DCHS), Abner decided to apply for the opening as principal at RCHS. Abner said, "When I was applying for the position of principal, I explained how it was our desire to live in the community in which we worked and how we value a community approach while raising our kids. I was able to conduct an accreditation for the RCHS feeder area, and I immediately noticed what a great feeder system it was. When the job opened at RCHS I threw my name in the hat and explained as I interviewed that if I were given the opportunity to lead RCHS we would put a for sale sign in our yard in Castle Rock and look to move to the RCHS feeder."
Everything happened quickly and the Abner's have been living in Castle Pines for a year and a half. Abner commented, "We are proud to be part of the Castle Pines community, both by being involved at RCHS and the feeder schools and by being involved in the neighborhood activities." Abner also gets out to do some skiing, fly fishing, biking, and traveling around Colorado. In addition, playing games and just playing outside with the boys is all part of the Abner family fun.
Abner concluded, "Our goal is to raise our three boys through this feeder and in this community. Ultimately, I would like to hand each of them their high school diploma when they graduate from RCHS!"