RCHS "Black and Gold" yearbook receives national award
June 1, 2017
/
/
Comments Off

on RCHS "Black and Gold" yearbook receives national award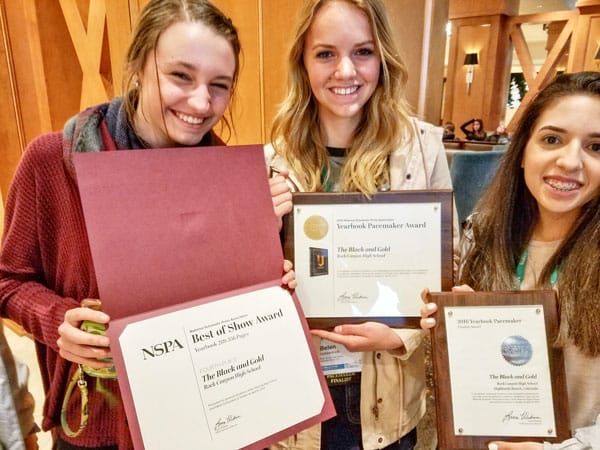 Yearbook staff members Lauren Dressler, Belen Hebbelinck and Gabby Botero posed for a picture after winning the national Pacemaker Award on April 8 for the RCHS yearbook "U Discover."
By Riley Busch, RCHS intern writer; photo courtesy of Kristi Rathbun
As the school year came to a close, high schoolers throughout the country reflected on the school year with an annual yearbook. This year, the Rock Canyon High School (RCHS) yearbook staff acquired a prestigious honor; the nationally acclaimed Pacemaker Award was bestowed upon the RCHS yearbook program, the highest achievement received to date, recognizing the outstanding leadership, perseverance and artistry of the entire yearbook team.
The RCHS 2015-2016 yearbook, entitled "U Discover" is the only Colorado high school yearbook to receive the Pacemaker Award and was hand-picked from more than 70 finalist publications. The yearbook earned glowing reviews from many judges and received high praise for its overall excellence and achievement. The Pacemaker Award, distributed by the National Scholastic Press Association, emphasized the storytelling aspect of the unique publication. The yearbook staff made the students and surrouånding community their primary focus and developed these stories through beautiful formatting and style.
Producing a new and unique yearbook every year can prove very rewarding for any yearbook staff, however, the process is anything but effortless. Entirely student-led, the RCHS yearbook staff dedicates hundreds of hours each year to guarantee a smooth publication, accomplishing this task with style and grace. Communicating with publishing companies, budgeting, meeting deadlines, and coordinating the end-of-year distribution are all part of the annual process. The Pacemaker Award served to further support the arduous work of these students. Former editor-in-chief and Castle Pines resident Celia Adams stated, "Through winning the award, the overall confidence is boosted for all of the staff. It validates the work we do and makes the long hours, hard critiques and difficult edits worth it."
The success of the 2015-2016 Black and Gold yearbook has left an extraordinary and indelible mark on the RCHS yearbook program. The exceptional commitment, craftsmanship and leadership displayed by the yearbook staff continues to positively impact and change the RCHS program and community. When asked about the student-led yearbook program, Kristi Rathbun, RCHS newspaper and yearbook advisor, said, "I'm so proud of the professionalism these students exhibit, and the Pacemaker is confirmation that they are doing a top job. They are truly setting the pace for programs around the country." Congratulations on yet another successful yearbook, Jaguars!