Recycle e-waste for a healthier environment
August 1, 2017
/
/
Comments Off

on Recycle e-waste for a healthier environment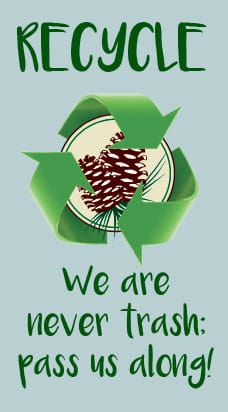 By Lisa Crockett
If you are a human being alive on the planet today, there is a good chance you have some sort of obsolete computer or electronic equipment somewhere in your house. A law passed four years ago in an effort to encourage recycling of so called "e-waste" (think computers, monitors, televisions and cellphones). If you don't properly recycle discarded electronics, you could face fines.
Perhaps even more important than staying on the right side of the law are the environmental benefits of e-waste recycling. These include capturing valuable resources, such as precious metals, copper, and engineered plastics, all of which require considerable energy to process and manufacture. Recycling also keeps hazardous materials out of the landfill. Substances like lead, mercury, chromium, and arsenic can be kept safely away from soil and groundwater supplies through responsible recycling.
For recycling at any time of the year, roughly 60 recyclers statewide offer comprehensive services, including data destruction and battery collection. Unfortunately, none of these recyclers are located in Douglas County, but there are several in nearby counties, including Blue Star Recyclers in Colorado Springs and Electronics Recycling International in Arapahoe County. In addition, community groups like the Douglas/Elbert Task Force offer "roundup" style events for residents to dispose of their unwanted goods, and do a little good at the same time. A nominal fee is generally collected for recycling, depending on the item in question, and donations are accepted. The Task Force event was held in the spring, and the Highlands Ranch Community Association (HRCA) is hosting a similar event on September 30.
Blue Star Recyclers, which partners with the Task Force to offer recycling services, received national recognition for their work in hiring people on the autism spectrum from Autism Speaks, an advocacy group for people with autism. Blue Star Recyclers was founded to provide employment for people on the spectrum as a productive alternative to so-called "day-habilitation" programs.
"Blue Star Recyclers has 40 employees (80 percent of whom have a diagnosed disability) work at our three operations in Colorado Springs, Denver, and Boulder," stated Bill Morris, co-founder and CEO of Blue Star Recyclers in a recent blog post for Autism Speaks. "We've recycled 13 million pounds of electronics and reduced taxpayer burden by over $1 million through earned-income displacements and decreased benefit utilization."
The Highlands Ranch event will accept computers, monitors, keyboards, fax machines, telephones, cellphones, radios, printers and more. Some fees apply; businesses are welcome and should call for special pricing. For more information about the event, visit hrcaonline.org/about-us/guides-communication/calendar-schedules/event-detail/computerelectronics-recycling-and-paper-shred.
For more information about Blue Star Recyclers and other recycling programs statewide, visit www.bluestarrecyclers.org, and www.colorado.gov/pacific/cdphe/information-residential-electronics-and-computer-waste.