Replace your "bucket list" with a "life list"
May 1, 2018
/
/
Comments Off

on Replace your "bucket list" with a "life list"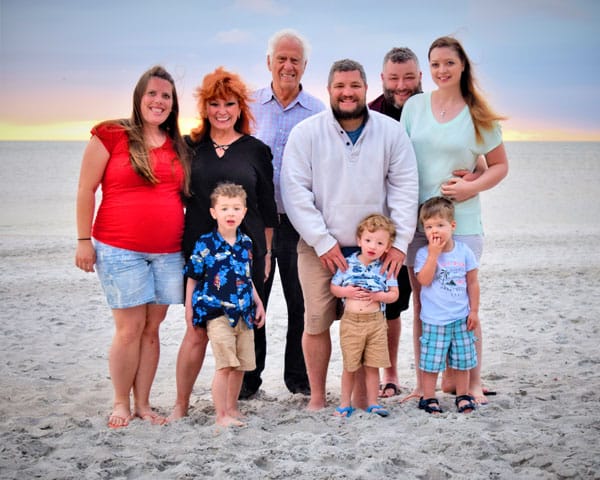 René Green (second from left) enjoys time at the beach. She is pictured here with family and loved ones on Madeira Beach in Florida last year.
Article by Nancy Koontz; photo courtesy of René Green; pageant photo courtesy of Shelly Au
On May 26, twelve contestants ages 60-95 will compete for the title of 2018 Ms. Colorado Senior America at the 24th annual pageant. Behind the scenes capturing the beauty of it all through the lens of her camera will be state pageant administrator, Rene' Green.
Green is far from just the photographer for the pageant; her job description has her excelling in many aspects of her role as administrator. In addition to taking the pageant photos, Green plays the fiddle (she still takes lessons), sings, is a volunteer for the Lone Tree Symphony and is involved with the Cameo Club – the performing arts arm of the pageant. Although she didn't take the title, Green participated as a contestant in the pageant in 2016.
"The pageant is so much more than a beauty contest," said Green. "It brings women who have done so much in their lives to truly recognize themselves and their life accomplishments. The pageant captures the joy of living and not letting age be a detriment."
The 15-year Happy Canyon resident is also one of the state directors for the Ms. Senior Colorado America pageant, helping the candidates and each reigning queen with publicity and preparation for the national pageant held in New Jersey each October.
In addition to her family (she lost her husband in 2006), Green is most proud of owning a restaurant near Mile High Stadium when she was only 21 years old. She sold it 11 years later to finance her way through college. After graduating with honors at the top of her class with a degree in finance, all the while raising two young boys, Green enjoyed a 22-year career at Standard & Poor's in Denver. When the company downsized, Green recalled how challenging it was to start all over interviewing for jobs. She said she loves the work she is doing now with the pageant because it gives women the confidence to get back out there. "You can just see the pageant contestants grow in confidence as they become comfortable being on stage!"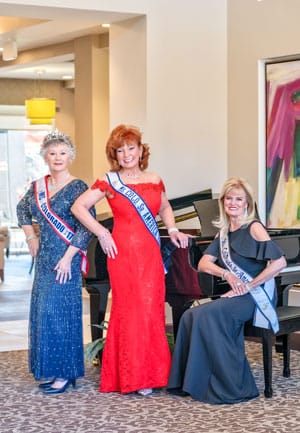 Once a contestant in the Ms. Colorado Senior America pageant, René Green now works behind the scenes as the pageant administrator, helping other women reach their full potential.
Last month, Green visited the Grand Canyon, reliving one of her favorite childhood memories. She said it was amazing to see all the beauty through "older eyes." Green, who has been to such interesting places as Africa, wants to continue to travel with her boyfriend, climb mountains, have a condo on the beach, enjoy her grandchildren (she has three grandsons and one new granddaughter), fiddle like a country western star, and stay active with the pageant and the community.
She feels blessed to have good health, be active, be involved in many activities, and plans to continue to live and love life to the fullest. She spends time doing work at the Easter Seals Camp and also gives back to the Denver Dumb Friends League and the Max Fund among other charities. Green is a recipient of the Channel 7 Everyday Hero Award and hopes to be on a nonprofit board one day.
Green is happy to say she doesn't have a "bucket list" just a "life list." As her legacy, Green wants to be known as someone who made a difference and inspired others with her welcoming smile and cheerful attitude – both of which hardly ever leave her.
This year's Ms. Senior Colorado America pageant takes place on Saturday, May 26 at 2 p.m. at the Lone Tree Arts Center. The theme is "My Fair Lady," and the contestants will compete in four categories — private interview, evening gown, philosophy of life and talent.
The woman crowned Ms. Colorado Senior America will appear in shows, parades and other local events, and will compete in the Ms. Senior America Pageant in October.
Tickets are $25 and are available at the Lone Tree Arts Center box office or online at www.lonetreeartscenter.org. For information, or to be considered as a future contestant, contact Colorado's pageant administrator René Green at renemcsap@gmail.com or 720-384-6249. Information is also available online at www.colosramerica.com.