RHMS sizzled the competition in Cafeteria Wars
November 1, 2015
/
/
Comments Off

on RHMS sizzled the competition in Cafeteria Wars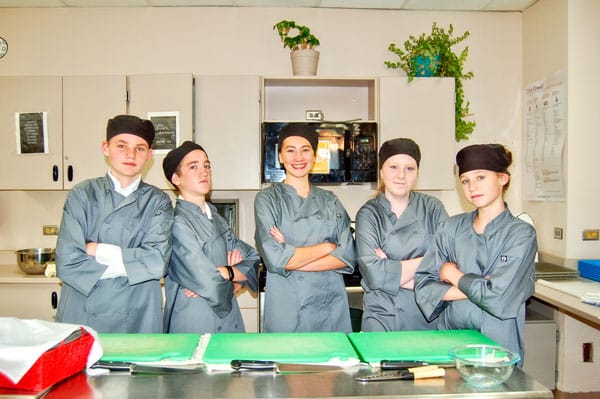 RHMS "chopped" the competition during the district sponsored Cafeteria Wars competition.


By RHMS eighth grade student Sophia Sobota; photo by Amy Shanahan; courtesy photo
Three teams from schools in the Douglas County School District, four mystery ingredients, and various pantry items … did they succeed or did the challenge overcome them?
Led by teacher Julie Olsen-Smith, Rocky Heights Middle School (RHMS) competed in Cafeteria Wars, a teen chef competition. They fought hard on September 25 at ThunderRidge High School (TRHS). The real-life experience was sponsored by District Career and Technical Education, and it encouraged the students to collaborate and create a pathway to future careers in hospitality and tourism.
The morning started with cameras surrounding all of the competitors inside the TRHS kitchen. The cooking process launched almost immediately thereafter. During the 60 stressful minutes, the challenge was to create a mouth-watering meal using all Colorado Proud ingredients, including Boulder Natural Meats chicken tenders, Raquelitas flour tortillas, Colorado watermelon, and San Luis Valley potatoes.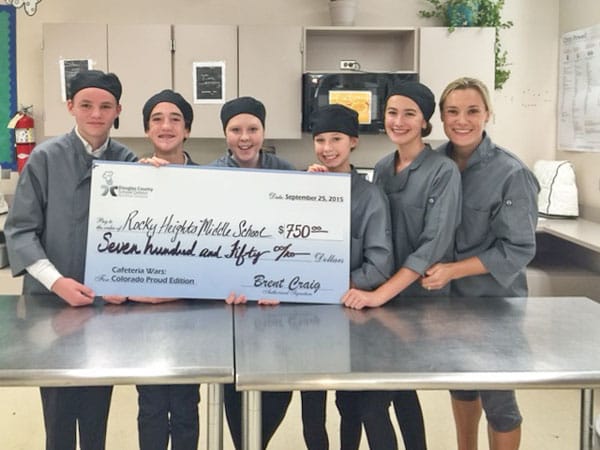 The RHMS Cafeteria Wars competitors were thrilled to take home a check for $750 after winning the competition with their Mexican inspired dish. From left to right, Kameron Fisher, Oliver Huene, Abigail Houghton, Lauren Shea, Sophia Sobota and teacher Julie Olsen-Smith.
After time was called, RHMS presented baked tortilla chicken tenders with a light cheese sauce with a pico de gallo plated on top, and a Mexican style rice and potatoes.
When asked about the experience, RHMS competitor Kameron Fisher said, "It was really fun, but it turned out to be a little stressful." Another competitor, Oliver Huene, said it was "really hard coming into the competition and seeing the TRHS team, but clearly we got over that fear." Oliver was certainly correct. Right after interviews, it was time for the judges from Johnson and Wales University to announce the winner. The judges awarded RHMS $750 for its culinary arts program (Family and Consumer Sciences).
After working so hard to cook the competition, the RHMS students prepared lunch for El Dorado Elementary school's K-6 grade students. The dish was certainly a big hit, getting fantastic reviews. "It's amazing!" Evan Sandoval said, while giving a thumbs up. "I like how you made the brown rice!" Ella Elsen said. All the kids enjoyed the Mexican inspired dish. This experience was amazing for all of the students who participated, and RHMS was thrilled to take home the win … and the check!