RJ McLennan won the giant slalom at CHSAA state ski championships
April 1, 2017
/
/
Comments Off

on RJ McLennan won the giant slalom at CHSAA state ski championships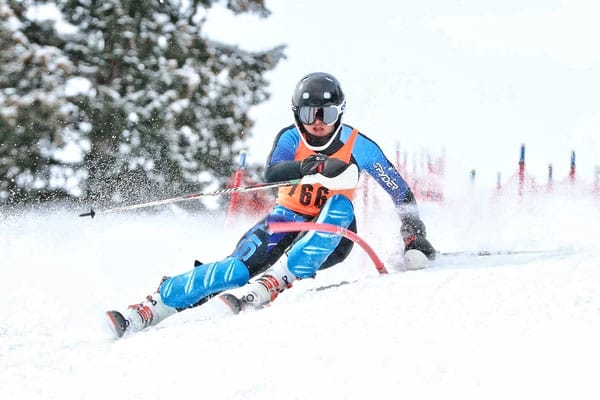 RJ McLennan won the giant slalom at the CHSAA state ski championships in Steamboat Springs by more than a second in 12 degree weather on February 23.
By Lisa Nicklanovich; photos courtesy of Tania Coffey and RJ McLennan
RJ McLennan, a Castle Pines resident and senior at Rock Canyon High School (RCHS), won the giant slalom state title at the Colorado High School Activities Association (CHSAA) state ski championship in Steamboat Springs on February 23. In addition to winning the state title, McLennan was named to the elite, five-person boys All-State Giant Slalom team.
The annual alpine and nordic ski championships for all high school teams in Colorado drew more than 400 athletes from 14 schools across the state. Alpine events were held on the slalom and giant slalom course at Mount Werner, while Nordic events were held at Howelson Hill Touring Center. McLennan skis for two programs: the JeffCo ski team out of Evergreen high school (RCHS does not currently have a ski team) and Team Summit Colorado.
McLennan said he prepared for the race by getting a good night's sleep and inspecting the course well. "I made sure that I was hydrated and before each race I always ran through the course in my head to visualize what I want to do and execute."
Ending the season as the state champion, McLennan said, "It felt amazing to win. I have won a few races this year, but winning this final race felt like a dream come true. When I finished the second run my legs were exhausted. I came out of the finish area and all of my friends congratulated me; It was a feeling I will never forget. I was filled with adrenalin and excitement."
A senior at RCHS, McLennan started skiing at the age of three and racing at the age of six. "Ever since I started racing, I fell in love with it and never looked back. I love the versatility of skiing; every day is a new challenge. I love that it is an independent sport. I love being able to be in complete control while going as fast as I can." In addition to skiing, McLennan is on the varsity lacrosse and racquetball teams and was on link crew at RCHS.
McLennan is going to attend the University of Colorado Boulder in the fall and said, "I love numbers, so I'm hoping to study engineering." He is considering the club ski team at Boulder but wants school to come first. McLennan added, "But I will always ski my whole life."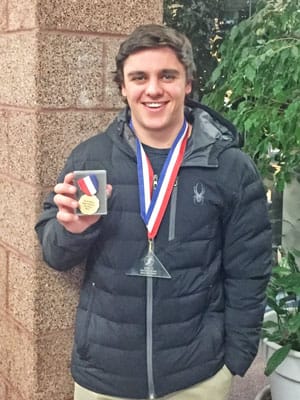 RJ McLennan with his state championship medal for the Giant Slalom. McLennan is a senior at Rock Canyon High School and will be attending CU Boulder in the fall.