Sage Canyon hosts field day with a twist
July 1, 2015
/
/
Comments Off

on Sage Canyon hosts field day with a twist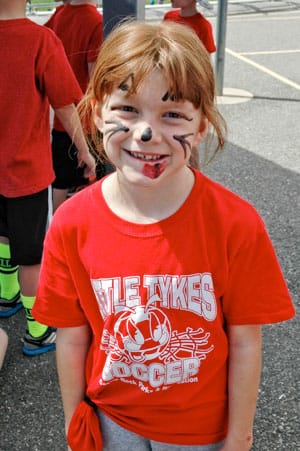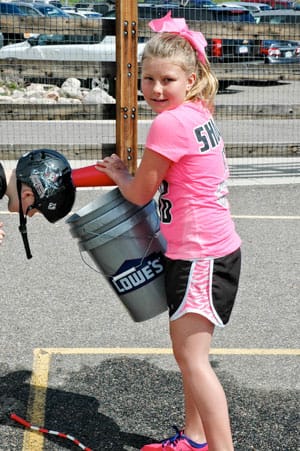 Sage Canyon student Cynthia Marquez sports a cat face at the school's field day. Sixth grader Kailyn Ferguson runs a station involving a helmet and a water cup at field day.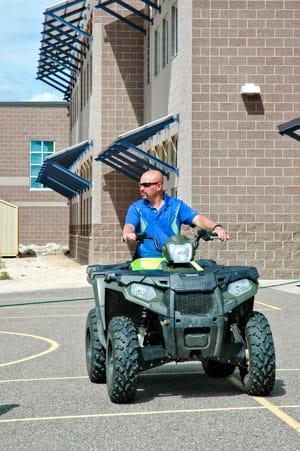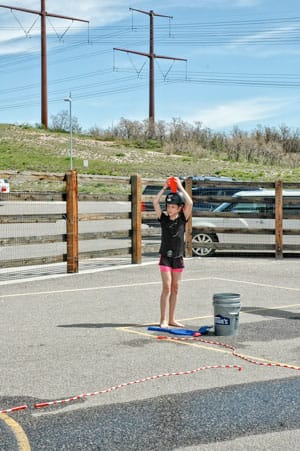 Sage Canyon Elementary P.E. teacher Lance Schoenwald supervised the school's field day from atop an ATV. Emma Peterson demonstrates how to navigate the obstacle course she designed along with classmates for field day.

Article and photos by Lisa Crockett
A typical school field day includes classic events like sack races and the 50-yard dash. At Sage Canyon Elementary in Castle Rock, there are a few new wrinkles on those classics, which means students are equally likely to be carrying a rubber chicken as running a race. In keeping with school tradition, all the day's events – 25 stations in all – were designed and run by the school's sixth grade students.
"For field day, we really try to put the kids in the mindset of a teacher," said sixth grade teacher Sarah Johnson. "These kids have seen this done when they've been participants, and we really encourage them to put their creative twist on things."
Those creative twists meant kids played their hearts out for a full day carrying water on their heads, playing flag football on scooters, and getting their faces painted.
"When we looked at making up our station, we had to look at the available materials and then decide what we wanted to do," said sixth grader Diana Torres. "We had to think about what kids will like to do and how we'd make the day fun."
At the center of the events, P.E. teacher Lance Schoenwald and fitness instructor Cindi Blicharz not only ensure that the day's events run smoothly, but also observe the unique game elements that the sixth graders were introducing, often for the first time.
"A lot of these stations are based on things we've done throughout the year in P.E.," said Schoenwald. "I look at new elements, though, and I sometimes incorporate them into things we do next year."
For Blicharz, that student-led aspect of the event is what truly makes the day special.
"This is more than just a field day," she said. "The 110 sixth graders who run this day are learning teamwork and collaboration, and those are really important life skills."