Shining light back into life's dark places
November 1, 2015
/
/
Comments Off

on Shining light back into life's dark places

CanyonQuests for Vets (CQV) is a nonprofit organization founded earlier this year by high school teacher Brian Wood. CQV honors veterans and provides socialization and a reconnection to civilian life through three-day canyoneering excursions. These adventures not only bring the veterans outdoors, but also get them utilizing skills learned in the military such as teamwork, communication and physical endurance. (Photo taken at Lost and Found Canyon, Utah.)
By Kathy Fallert; photos courtesy of Brian Wood
Brian Wood, an educator at Daniel C. Oakes High School in Castle Rock, has spent the past 20 years teaching history as well as rock climbing. Wood has taken numerous groups of kids outdoors for climbing and canyoneering. Motivated by a good friend and former student, Max Donahue, who was killed during military duty in Afghanistan, Wood decided to take his skill set and put it to use by introducing American veterans to the sport of canyoneering.
Canyoneering is defined as traveling in canyons using a variety of techniques such as walking, scrambling, climbing, and rappelling. Through his nonprofit CanyonQuests for Vets (CQV), Wood started taking groups of five-to-seven veterans at a time on three-day canyoneering adventures in Colorado and Utah in June of this year.
CQV provides food and transportation for these outdoor adventures. Wood reflected on his inspiration to start CQV, "Max Donahue had come to the school where I teach because he was disillusioned by school, but he loved education. He was a smart, passionate young man who was liked by everybody. He moved me. And for some reason, I moved him."
Wood was reminded of Donahue when reading a short essay in a book called "Everything I Needed to Know I Learned in Kindergarten." In the essay, author Robert Fulghum writes that the meaning of life for some is to shine light into the dark places of the human heart. "Max was that kind of man," Wood said. "His was a light that penetrated the dark places of the heart. He had that kind of effect on you."
Wood continued, "After Max graduated from D.C. Oakes, he fulfilled a life-long dream by joining the US Marine Corps (USMC.) He became Corporal Max Donahue and served his country as a military police dog handler. On August 4, 2010, Max and his dog triggered an improvised explosive device. On August 7, 2010 he died from the wounds he sustained in that encounter."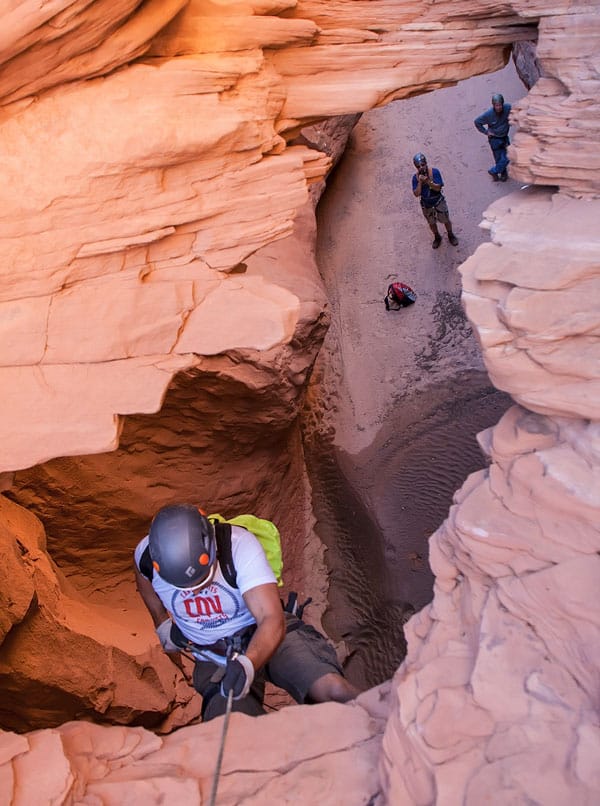 After the death of his friend, Wood was inspired to engage veterans in the outdoor sport of canyoneering, which relies on teamwork, communication, and connecting with other people and to nature. Making the transition from military to civilian life is difficult for many veterans and can lead to feelings of isolation. CQV uses many of the skills that veterans already know from the military and builds on them to reconnect and develop relationships with other veterans.
Wood said he believes that being outdoors and participating in team work and physical activity is healthy and perfect for these veterans. He commented, "Leading a group for an outdoor adventure is something I have a lot of experience with and I've developed a certain level of skill in that regard. There is a lot of interest among vets to participate in the canyoneering adventures CQV is offering. However, the fundraising piece – which really just provides food and gas for the expeditions – is the aspect that needs to be developed."
CQV adventures are for all abilities and ages. An event is in the works for March 2016 which will be for veterans with traumatic brain injuries. The adventure gives veterans the opportunity to demonstrate honor through participation in technical skills, connection to the community, safety and the outdoors.
Wood concluded, "Max was a good man, a good son, and a good Marine. He was also my friend. CanyonQuests for Vets was formed in honor of Max. It was formed because I believe he would approve of what we do. CanyonQuests for Vets hopes to do what Max did, to shine light into the dark places of the human heart by taking them to wild and remote places and playing in the dirt."
To learn more about CanyonQuests for Vets or to donate, visit www.canyonquestsforvets.org.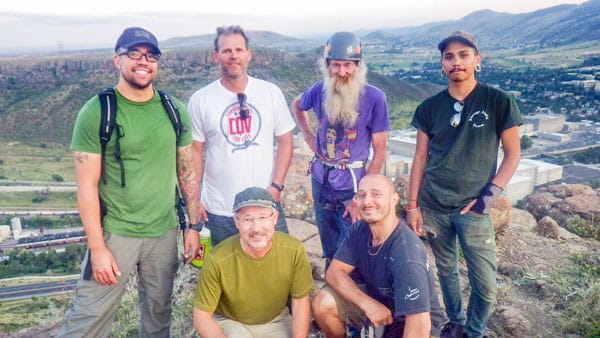 In addition to three-day excursions, CQV also offers monthly practice events such as this one at North Table Mountain in Golden in August. Back Row, left to right: Victor Bintliff, CQV Founder and President Brian Wood, Steve Livingood, and Izzy Livingood. Front row, left to right, Steve Hudek, and Joshua Phetteplace.