Silver spoons dig up family's roots
April 1, 2018
/
/
Comments Off

on Silver spoons dig up family's roots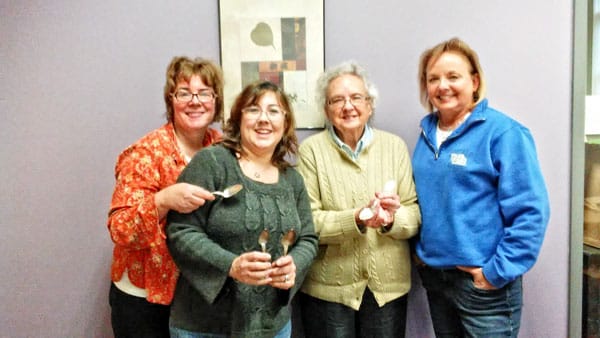 Pictured left to right, Elizabeth Metz of Forest Park, Patty Trombley, Eleanor Baribault and Cindy Keller of Rochester, New York. Through a genealogy website, Metz learned that Patty and Cindy are her third cousins and that Patty also owns Rhoda spoons.


Article and photos by Lisa Nicklanovich
Elizabeth Metz of Forest Park was recently going through some boxes filled with things she had inherited from her mother and grandmother years ago when she found some silver spoons engraved with the name Rhoda on them. Inspired by her father-in-law who had done some ancestry research, she decided to find out who Rhoda was.
Three months of full-time research led to the creation of a beautiful hardcover book that summarizes her family's history, including newfound cousins and many surprises. Rhoda, as it turned out, was Metz's great-great-grandmother. Metz used ancestry.com, Googled for old reference books, census records, contracts and licenses and used the Douglas County Libraries and other public libraries for her research. One specific genealogy site was particularly interesting to Metz, though, because it listed her grandfather's name, Sager, her great-grandfather, and also included Rhoda and her husband Abe.
Metz said, "I decided to contact the webmaster of that site, and she said she had the same Rhoda spoons. She turned out to be my third cousin. So I flew out to New York to meet her." Metz met her new cousins Patty and Cindy, as well as Cindy's mother Eleanor, at a library in Rochester. "Eleanor remembers meeting my great-grandfather when she was a girl. They brought their Rhoda spoons with them, and it was really nice to meet them." Recently, Eleanor wrote Metz a letter telling her that one of her cousins also has two Rhoda spoons. Metz figures that all of Rhoda's grandchildren received a few pieces of her silver when she died in 1924.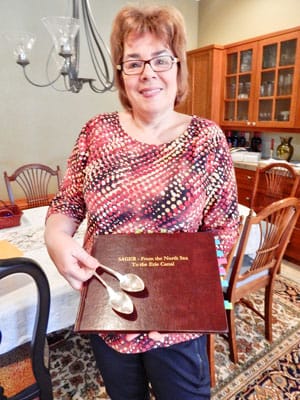 Elizabeth Metz holding the ancestry book she created and the spoons that started her on her ancestry journey. Metz says if you are curious to do some ancestry research, start with what you already have, maybe an old family bible with birth and marriage records in it. "Don't get bogged down in getting every piece of data. Having a few holes in the story might make the next generation curious enough to continue the journey," Metz said.

Metz recommends going through those old family boxes. "Put things on display or use them at different times of the year. Have some enjoyment from them." The spoons that were in a box for years are now out and part of Metz's family history.
Metz said, "I felt like I should have known all that I learned my whole life, and I felt bad my father didn't know any of this. He died when I was 27. If my father had known his grandfather was in the civil war and they had a knitting business in Syracuse, New York that employed 3,000 people in the late 1800s, he would have embraced it and been proud. This project is a tribute to him and makes me feel like I've earned that role of being the head of the family." Metz's brother and sister were so impressed with the ancestry book they suggested Metz's next project be researching their mother's side of the family.