Staff lounge at Buffalo Ridge gets a surprise makeover
June 1, 2014
/
/
Comments Off

on Staff lounge at Buffalo Ridge gets a surprise makeover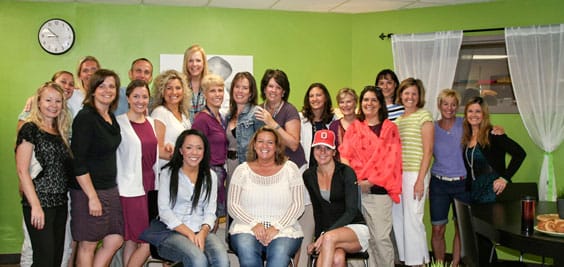 BREA hospitality gurus Jill Johnson, Valerie Miller and Michelle Rafter celebrate
with many staff members after the staff lounge makeover reveal!
Article and photos by Elean Gersack
Weekend renovations aren't just for television. On Monday, May 5, teachers and staff at Buffalo Ridge Elementary School (BRE) were surprised with delight as they discovered a freshly renovated staff lounge to kick-off staff appreciation week.
The Buffalo Ridge Educational Alliance (BREA) parent volunteers Jill Johnson and Valerie Miller head up the organization's hospitality committee. They decided to do something a little different for staff appreciation week this year. With the help of Michelle Rafter, their staff appreciation chairperson, the ladies set their sights on overhauling the rather dated staff lounge. "This year, we decided what better way to make a lasting impression but by doing a complete makeover of their staff lounge that will be around for years to come," said Rafter.
Working with a minimal budget, the ladies shopped IKEA and repurposed unused items from their homes to cost-effectively transform the space into a warm and cozy get-away. Johnson, Miller and Rafter selected rugs, a sofa slipcover, curtains, lamps, wall sconces, tables, chairs, new kitchenware, and more. The school donated a new dishwasher to replace the broken one, too.
With the help of many parent volunteers, including several dads, the makeover transformation officially started on Friday night and lasted well into Sunday. Cabinets and drawers were scrubbed; walls were primed for paint; and old furniture was removed. Next came painting walls – a bright and happy green, painting cabinets – a warm dark brown, and installing a new tile backsplash in the kitchenette to tie it all together. Next, the fun part came when all of the finishing touches were added.
"Our goal was to make this a place where the teachers wanted to go to eat lunch, a place where they can feel at home, a place where they can relax and chat with their colleagues, and finally a place where they can get away for just a bit without the outdated, uninviting, industrial feel the staff lounge had prior to this fabulous makeover … but instead in a beautiful, soothing atmosphere," said Rafter.
"Thanks to the BREA, our staff lounge has turned into a home away from home," said Nancy MacIntosh, the school's art teacher.
The BREA, the school's parent-teacher organization, arranged the week with generous support from BRE families. Staff appreciation week also included a homemade breakfast, donated gift cards, donated items from local businesses, and a catered lunch from Chipotle.

Before and after photos of the teacher's lounge show the dramatic transformation from a dull and dated space to a bright and cheery space for the staff to enjoy.