Stewards of the natural world
November 1, 2019
/
/
Comments Off

on Stewards of the natural world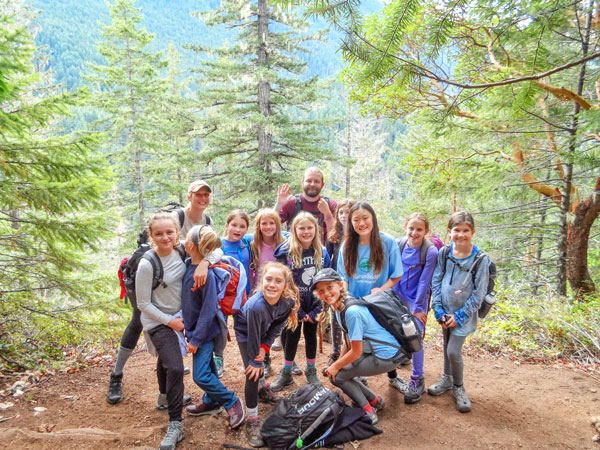 AA Castle Pines campus elementary Principal Tami Bostick (left back row) with NatureBridge educator Geode Sibbick (back row middle), prepped the Castle Pines campus students for their full-day hike up Mt. Storm King. Due to erosion, students found that the rocks were smoother at the base of the mountain.


By Julie Matuszewski: photos courtesy of American Academy
American Academy (AA) campuses continue to explore nature's beauty, this month through adventures in Olympic National Park in Washington state.
Sixth grade students from all three AA campuses joined Motsenbocker campus STEM lead instructor, Chris Todd, along with accompanying chaperones on a voluntary field related trip. The adventure expanded on AA's classroom curriculum of Earth and environmental sciences.
Students were immersed in a completely different ecosystem than what they experience here in Colorado. The group explored a temperate rainforest with ferns larger than themselves, embraced trees that took several of the students linking their arms together in order to wrap around them, and explored a wild coastline that most had never imagined.
Students camped in cabins on NatureBridge, located on Lake Crescent. From base camp, groups prepped themselves for the cooler wet temperatures and hiked Mt. Storm King, questioning whether the rocks looked the same at the top of the mountain as they did at the base. Students gathered angularity data on rocks throughout the hike. Comparing data, they concluded that rocks found at the base of the mountain were indeed smoother due to erosion.
Other activities included a hike along the Washington coast, hiking first through a coastal forest before accessing the beach littered with a number of enormous logs, sea stacks and a sea arch. It was on this beach students spent their day learning how humans impact our oceans and how conservation efforts are vital to all aspects of ocean environments.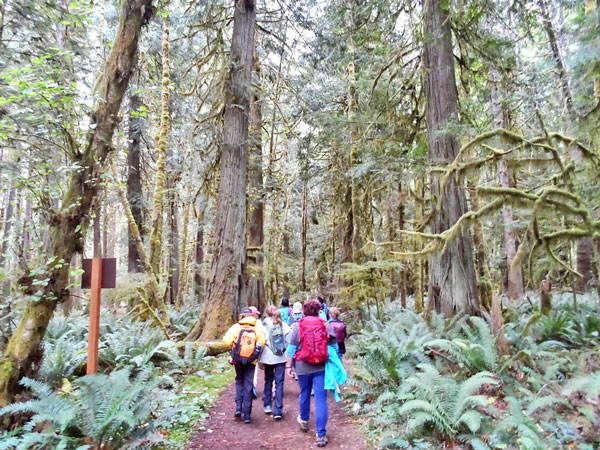 Students braved the cool and wet temperatures as they hiked among larger than life cedars and ferns.

Each day, the students were challenged and taken out of their comfort zones, exploring new and unfamiliar environmental surroundings unlike what they are familiar with in Colorado.
While enjoying nature's true beauty, the students learned how and why we should all be stewards of the natural world. Reminders such as only using what we need from the land, keeping our rivers, streams and oceans pollution free, and appreciating all our Earth has to offer – from the fallen tree to the unique leaf under a rock.
The Pacific Northwest is truly a beautiful and magical place to see and explore. With each new adventure, students learned how their involvement impacts our world and it taught them new appreciation for their natural surroundings.