December 1, 2009
/
/
Comments Off

on Still waters run deep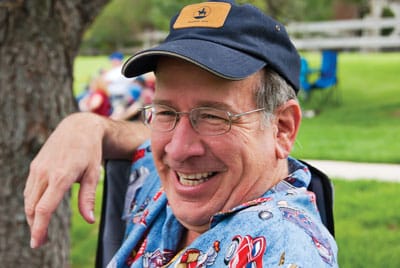 by Elizabeth Wood West
People in Douglas County and Castle Pines North (CPN) may know Mark Shively because of his extensive water knowledge and experience with the Douglas County Water Resource Authority (past president and current executive director), or because of his community service with the Castle Pines North Metropolitan District (past treasurer and president) and CPN HOA1 (past treasurer and president). Or they may know Shively because he was recently elected as city treasurer in CPN.
Shively recently allowed The Castle Pines Connection an opportunity to find out a little more about him.
When and why did you move to Colorado, specifically, Castle Pines North?
"I came to Denver in 1981 because of a job transfer. We moved to Castle Pines North in 1986 – to have a bit more room than Washington Park in downtown Denver. Plus, Castle Pines North was pretty, and not as big as Highlands Ranch."
Tell us about your family, including furry family members:
"Maureen and I have been married 25 years. Maureen has worked at the Denver Post for the past 18 years, selling advertising. My daughter Laura passed away 2 1/2 years ago, at age 15 1/2. Mary Jane is in the International Baccalaureate program at Douglas County High School and is an avid soccer player. Sarah is 10, and in 5th grade at Buffalo Ridge Elementary School. We have fish."
What is your favorite thing to do?
"I enjoy hanging out with the family, and vacations are best. I play guitar with friends. I play golf. I enjoy photography, but I'm not good at it. I find water and teen suicide prevention important things to work on. Water is more fun."
What is your least favorite thing to do?
"Long plane rides and clothes shopping with three girls."

You have done considerable volunteer work in the Castle Pines North community and elsewhere. Is there a particular person who inspired you or was a role model for you?
"My parents always believed in giving back to the community. Dale Mullen taught me why community service should be taken seriously. Carmine Iadarola taught me about water in Colorado. Don Glaser taught me about water in the American West. Rod Kuharich taught me why water issues are so political. Grace Napolitano taught me why it's critical to consider long term impacts, and how unlikely friendship can be. Laura taught me how precious and fleeting life truly is."
What do you like most about Castle Pines North?
"Going for walks in the afternoons, walking to and from elementary school with the kids, and friends I've known 23 years."
If you wish to contact Shively, he can be reached by email at contact by e-mail or at 303-688-0165.