Teen mountain bike team looking for more riders
September 1, 2013
/
/
Comments Off

on Teen mountain bike team looking for more riders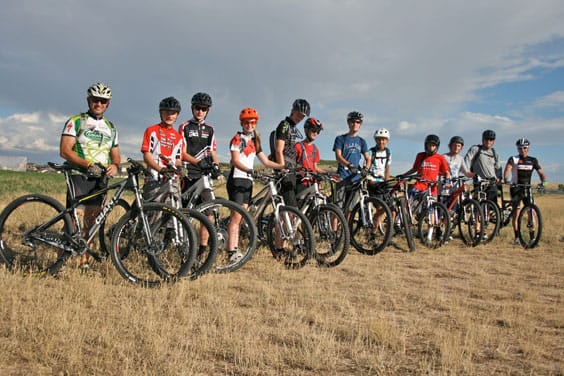 The Highlands Ranch Composite Mountain Bike Team meets every Tuesday and Thursday at 5:30 p.m. in the Mountain Vista High School parking lot. The team is open to all high school students who have an interest in developing their athletic skills while enjoying outdoor recreation in a team environment.


By Amy Shanahan; photo courtesy of Sheri Stouffer
Living in Colorado allows our kids a wealth of opportunities for outdoor sports and activities. For those who shy away from traditional team sports, mountain biking may be just the thing! The Highlands Ranch Composite Mountain Bike Team (HRCMBT) is a competitive mountain bike cycling team made up of high school riders from the Castle Pines and Highlands Ranch area.
Started in 2012 by coaches Roger Ryburn and Mike Degroot, the team is a co-ed team for all abilities, from beginner to advanced. Ryburn and Degroot are passionate about mountain biking and feel strongly that this is a great sport for kids to enjoy and carry with them throughout their lives. The fall club team began practicing in August and will compete in four races in September and October, with the state championship race occurring at the end of the season.
Although practices have already begun, the team is looking to add more riders, regardless of experience and ability. Riders are grouped into divisions based on gender and grade, and coaching and camps are available to help riders refine their skills. Brendan Stouffer is a freshman at Rock Canyon High School who competes on the team and is loving his experience so far. "I just started riding competitively this year. I enjoy the thrill and challenges of riding on various terrains." Currently the team is made up of thirteen riders from various high schools. Stouffer further remarked, "The team is a close group and it feels like a big family."
The HRCMBT is part of the Colorado High School Cycling League and the National Interscholastic Cycling Association. To learn more about the team, contact Julie Ryburn at 303-328-5180 or by e-mail jryburn010@hotmail.com. To learn more about the Colorado High School Cycling League, visit www.coloradomtb.org.